Bone Broth for Dogs & Cats
Tax included.
Suitable for puppy, adult & senior dogs
100% Australian made & sourced, human-quality ingredients
Daily supplement for essential nutrients
Our bone broth for dogs is a biologically appropriate, organic and premium 100% natural broth for your four legged friend. Made with 100% organic roo bones, apple cider vinegar, turmeric, celery & parsley.
We make our broth by cooking on a gentle slow simmer over 72 hours extracting maximum nutrients from bones while preserving the quality, releasing collagen-based amino acids and bone marrow goodness. This evolutionary liquid gold is carefully formulated to be used as a daily supplement alongside any of our signature pet food meals for extra nutrients. It also enhances white blood cell function and activity together with increased blood levels of interferon (the body's natural antiviral anti-cancer compound)
Strengthens joints and builds connective tissue with amino acids, collagen and minerals
Immune boost, recovery aid, improved digestion & gut health
Protect against inflammation, autoimmune disease
Aids nervous system, healing of wounds and whelping
100% natural & fresh with no preservatives, no additives.
Delivering essential nutrients for your pets health.
Our bone broth is cooked on a gentle slow simmer over 72 hours, extracting maximum nutrients from bones
This broth is a staple for your pet's physiological function, energy and endurance levels.
Australian sourced ingredients made in Australia with a proven guaranteed analysis quality human grade ingredients.
Puppy
Small 30-50ml
Medium 50-100ml
Large 100-150ml
Adult Dog
Small 50-100ml
Medium 100-150ml
Large 150-250ml
Kitten - 20-40ml
Adult Cat - 40-80ml
Option A: Serve on its own as a beverage.
Option B: Stir 50 ml through their favourite Right Start ready-to-serve meals.

Option C: Freeze into ice cube sizes, adding a cube or few to their meals daily. Excellent for pets that do not drink much, keeping them hydrated with their kidneys in great health.

Fussy eaters love it as it offers encouragement while providing a nutritious natural supplement to their diet.
Option D: Can be used as a full gut and GI cleanse for a period of 2-3 days without solids, this has proven to assist dogs to gain a full recovery from illness with no stress on their digestive system.
*This is a guide only. Intake will vary depending on age, weight, breed, sex and pet's activity.
View full details
The right size depends on your fur friends size, age and activity level. To learn more, see our 'Feeding Guides' in the footer.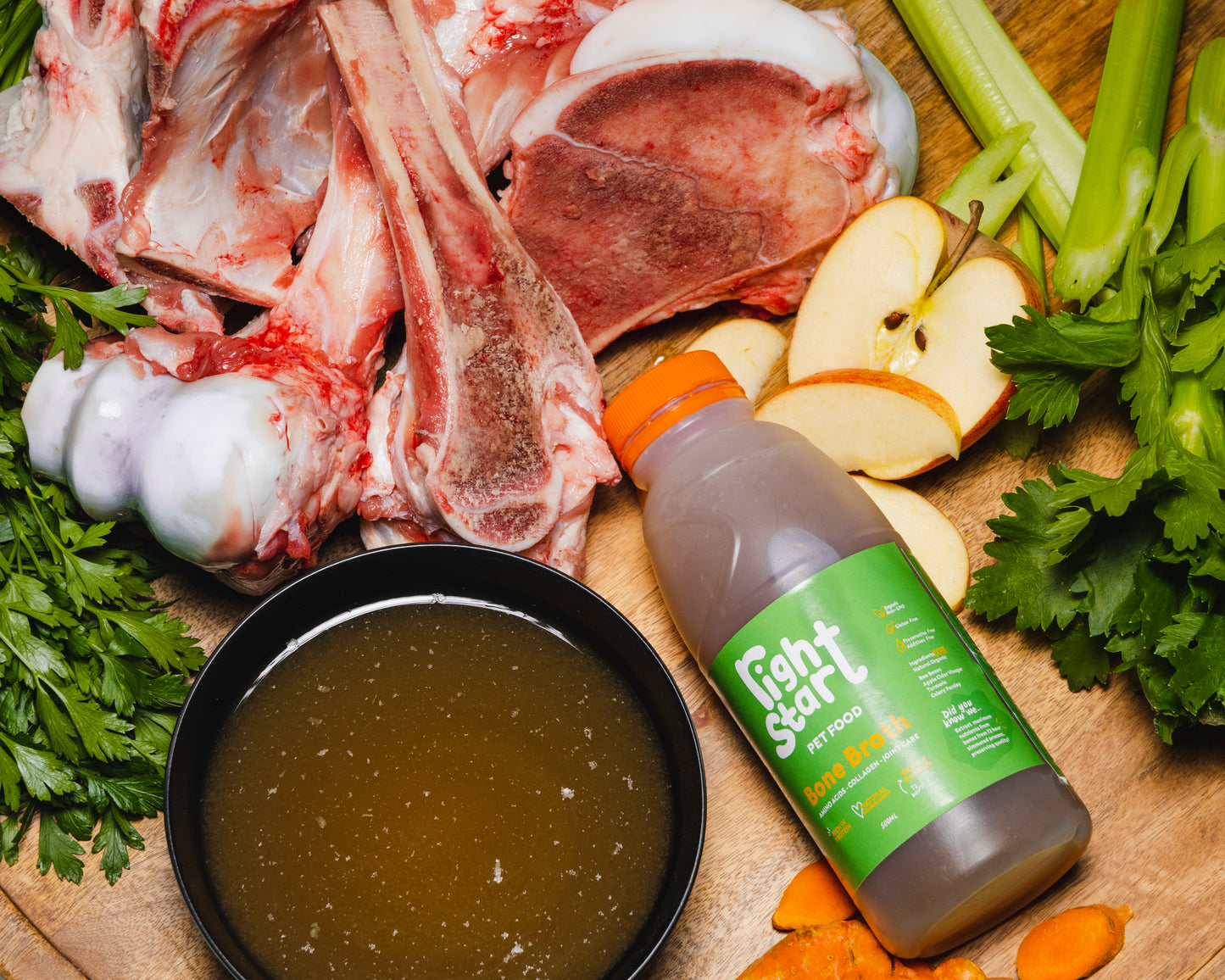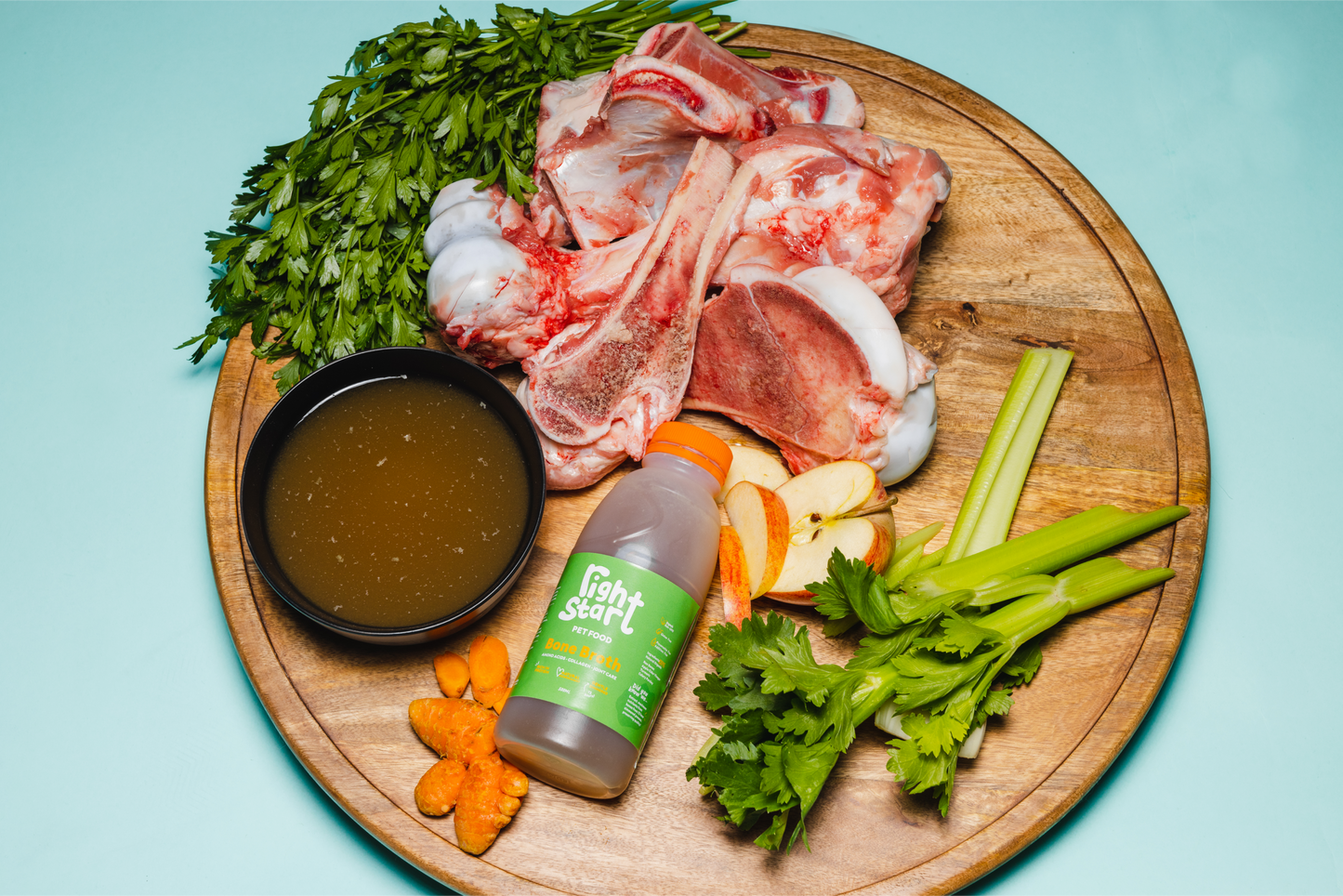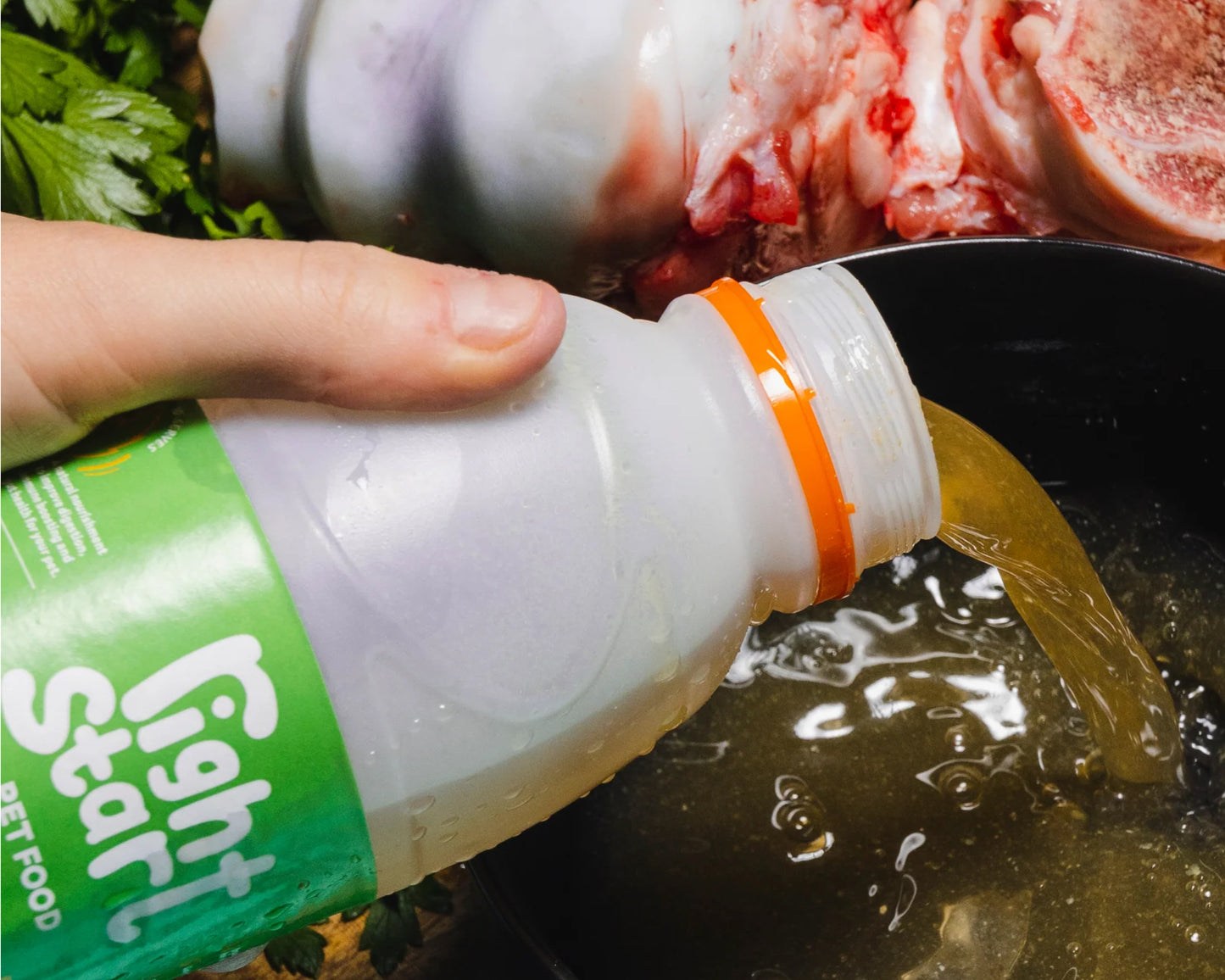 Bone Broth for Dogs & Cats
Frequently Asked Questions
Joint care, mobility, repair and recovery for all pets and ages. From growing puppies to active dogs, from kittens to seniors. Rich in protein, amino acids and collagen for a quick release into their system. Excellent for the repair of tissue and cellular growth extracted from rich nutrients, this supplement is considered liquid gold for all ages, cats and dogs.
Right Start Bone Broth is your pet's purest natural supplement. 100% organic roo bones, apple cider vinegar, turmeric, celery and parsley slowly simmered over 72 hours for maximum extraction of nutrients.
Use this text to answer questions in as much detail as possible for your customers.
Bone Broth is pure and natural; by providing Right Start Bone Broth regularly into your pet's diet, you will significantly improve their overall health.
Yes, it is highly regarded as the best liquid food to feed your pets for recovery due to it powerful healing properties. Great for active and ageing pets assisting mobility and repair of cellular growth
Bone Broth is not made up of meat; it is pure bones that have been slowly cooked down to extract all the nutrients, rich in protein, amino acids and collagen.
Fussy eaters no more, Right Start Bone Broth as been a game changer for the fussiest of eaters, and pets with health concerns.