Salmon Bellies for Dogs & Cats
Tax included.
Suitable for puppy, adult & senior dogs
100% Australian made & sourced, human-quality ingredients
Natural aid in oral care maintenance & release of dopamine hormones
Our Salmon Bellies for dogs and cats are a perfect topper to your dog's or cat's favourite meal for that omega hit, or serve as a treat. Either way they are a sure WINNER, your pet will love them! Raw salmon bellies are a healthy, natural and nutritional single protein treat, snack or topper suitable for pups, kittens, cats and dogs of all ages. 100% human-quality single protein with fresh salmon as the ONLY ingredient.
TIP - Try DIY dehydrating a batch! 
Feeding guides, click here
Delivered frozen for freshness, safe to thaw 50% in the refrigerator to refreeze in portion sizes.
We recommend that if you wish to portion control your meals yourself, it is safe to semi-thaw meals in the refrigerator and refreeze immediately.
Hypoallergenic & great for sensitive skin, tummy, allergies, and fussy eaters
Rich in B1, B6, B12, Vit D, niacin, selenium, potassium, magnesium, phosphorus
Supports brain, heart, skin, coat, teeth & gum health
Source of Omegas 3 & 6 essential fatty acids ALA,  DHA, EPA
High in protein, calcium, phosphorus, minerals, rich in glucosamine & chondroitin
100% natural fresh meats with no preservatives, no additives.
Delivering essential fats, proteins and nutrients for your pets health.
There are three types of meats necessary for dogs to consume. 1. whole meat flesh, 2. muscle meat, 3. organ meat and oily fish plus raw bones.
Our single protein options are living tissue composed of living cells providing balanced minerals.
That's why we offer our range of single protein options for your pet to have a complete, raw and fresh diet.
We provide meats and treats that give pets energy from the source of protein and fat, not carbohydrates.
This is essential for their physiological function, energy and endurance levels.
Sourcing premium quality meats, organ and oily fish is the key success to Right Start Pet Food.
Australian sourced ingredients made in Australia with a proven guaranteed analysis quality human grade ingredients.
For individual treat-style products like duck pieces and salmon heads, they are most beneficial when used as a supporting ingredient to a meal rather than a complete balanced meal for breakfast or dinner.
They can be used as a treat to top off one of our signature blends.
*This is a guide only. Intake will vary depending on age, weight, breed, sex and pet's activity.
View full details
The right size depends on your fur friends size, age and activity level. To learn more, see our 'Feeding Guides' in the footer.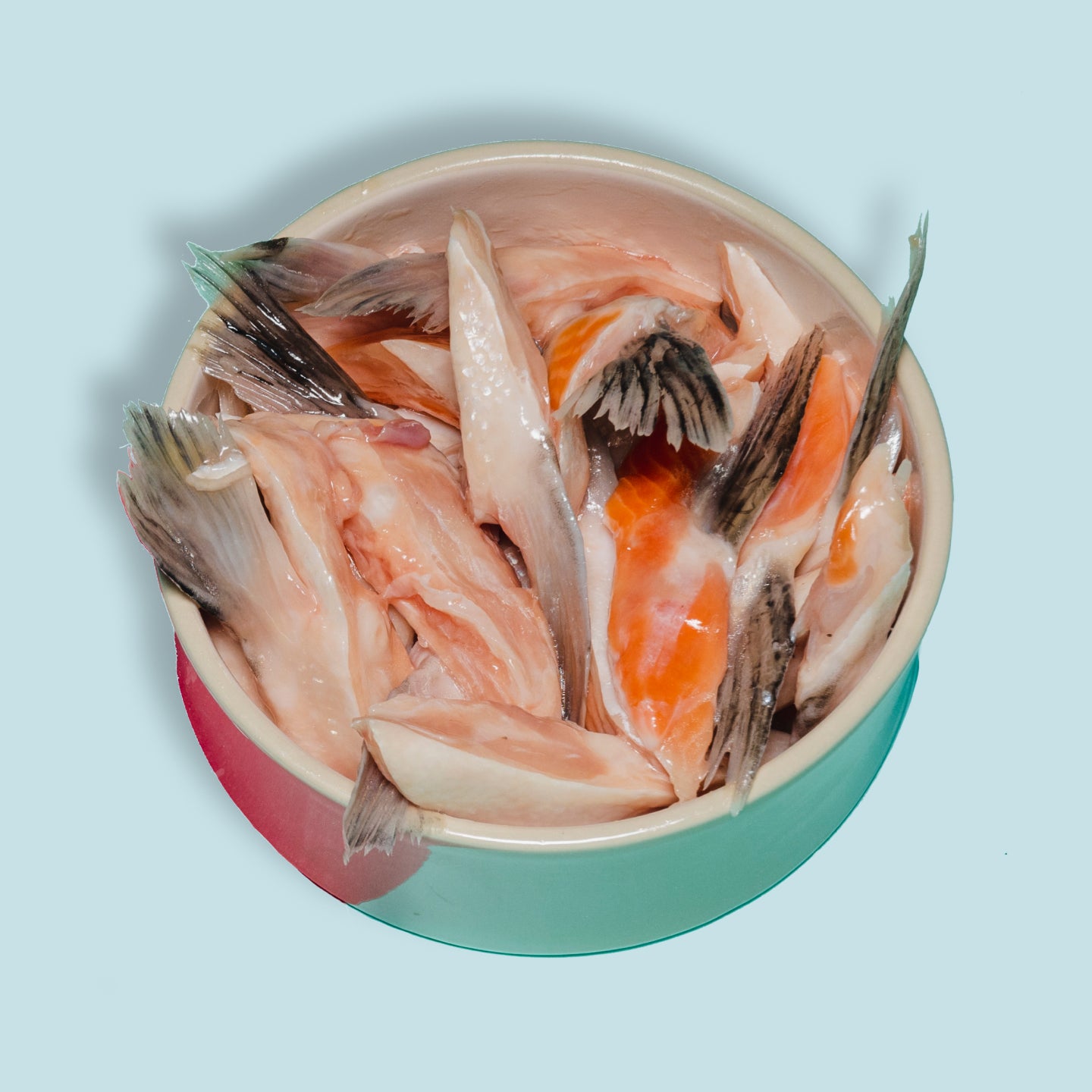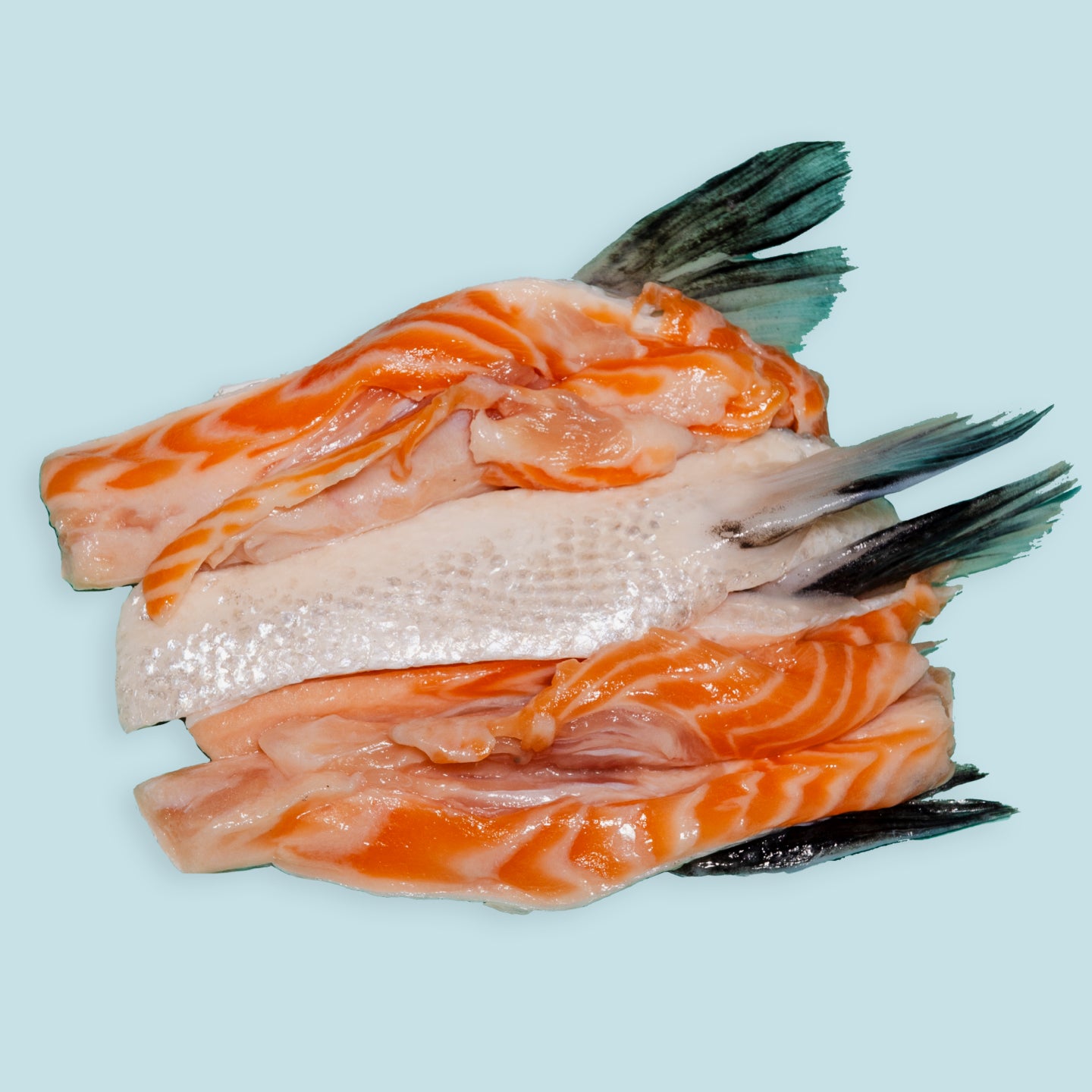 Salmon Bellies for Dogs & Cats
Frequently Asked Questions
Salmon is an excellent food your dog can consume daily; when combined, salmon offers an incredible balance of good fats.