Breeders, Founders & Co-owners!
Australian made & family operated, our mission is to create nutritional, complete & balanced meal for all pets. As breeders since 1998 & pet-owners ourselves; our signature recipes have been used by pure pedigree dog breeders all across Australia.
Chemical Free, Preservative Free & Additive Free
Human Quality Ingredients
Rich in Vitamins & Minerals
The Journey of RSPF
We started breeding the Cane Corso 25 years ago & this is how RSFP was born!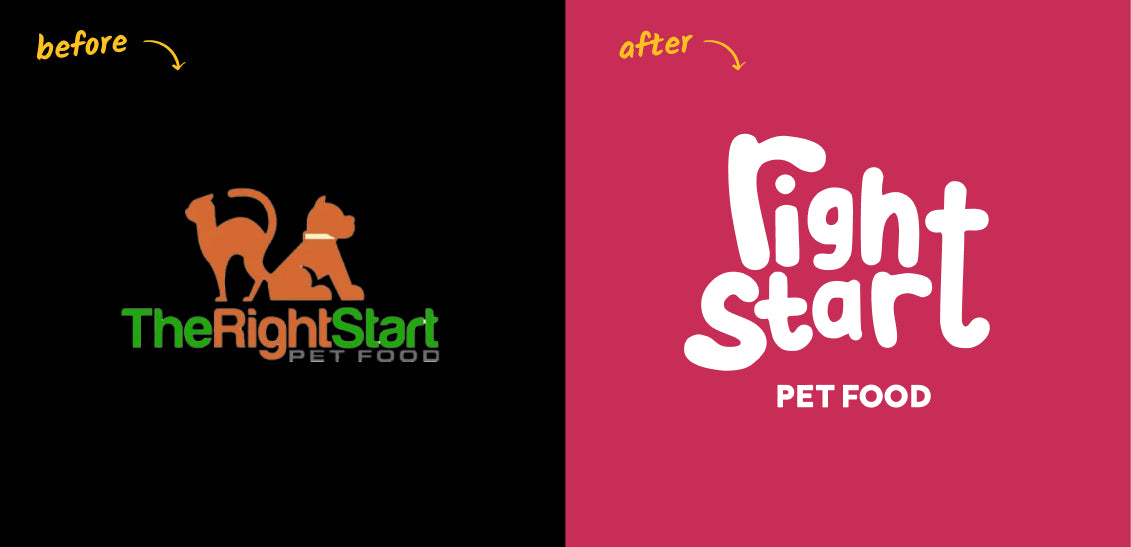 Our RSPF Logo
Before & After
Our rebrand, new website & subscription meals will allow our customers to receive a more streamlined ordering experience so we can focus on what matters most - creating quality, raw & fresh meals for your pet! Our new logo conveys a playful & brighter vibe (like our owners!) whilst staying true to our promise of delivering only the highest quality products and authentic experience.
At Right Start Pet Food, we are the premium raw pet food suppliers for numerous pet owners in Australia. Fresh and raw pet food is devoid of fillers, grains, and synthetic additives, consisting solely of the freshest ingredients to fulfill your pets' nutritional needs. This ensures optimal nourishment for your furry companions. Our raw pet food is sourced from reputable suppliers and prepared with the utmost care. We prioritise the quality of ingredients to ensure your pets receive the best nutrition available.
Getting Started on Raw Pet Food
If you are planning to transition your pet to a raw food diet, it is a thoughtful choice, and to help you on the journey, here are some tips:
Go Slow- Slowly introduce raw pet food into your pet's diet to allow their digestive system to adjust. Mix it with their current food and gradually increase the raw food portion.
Handle with care- Handle raw pet food with care to prevent cross-contamination and ensure safety for both you and your pet.
Give them variety- Offer a variety of raw food options to provide a well-rounded diet. Check our feeding guide for more information.
Get Fresh Food for Pets Every Time at Right Start Pet Food
We are passionate about helping your pets flourish with the benefits of raw and fresh pet food. We are not just raw pet food suppliers; we want to be your partners in ensuring your pets lead long, healthy, and happy lives. Make the switch to raw pet food today and experience the positive impact on your furry friends. Trust Right Start Pet Food as your go-to supplier for premium raw and fresh pet food in Australia. Your pets deserve nothing but the best, and we promise nothing but the best.
Check out our vast variety of raw pet foods, or contact us in case of any queries or concerns!
When we say our raw pet food is curated from human-quality ingredients, it implies that they are the same ingredients that are designed for human consumption. We procure supplies from the same suppliers and vendors who also cater to many home food markets and restaurants. All of our meat and vegetables are additives, chemical, and preservative-free and are locally produced and sourced in Australia. 
At Right Start Pet Food, our signature mix constitutes 70% fresh raw whole meat, 20% refined bone cartilage, and 10% vegetables and fruits.
We use beef, duck, roo, salmon, turkey, or a combination of these proteins in our mixes. 
Our weekly order cut-off is at 2 p.m. every Tuesday. 
Yes absolutely! We offer subscription services on a weekly, bi-weekly, tri-weekly, or monthly basis. Register for your desired subscription today and get attractive discounts of 10% on the first order and 5% on all repeat orders while your pet enjoys fresh food every time.