Trio Pack for Dogs
Tax included.
Suitable for puppy, adult & senior dogs
Premium, sustainable, complete & balanced
100% raw, fresh & natural Aussie ingredients
BLACK FRIDAY SALE:
25% off Combo Boxes & Trio Packs!
Min spend $199 on these items
Our Roo, Turkey & Beef trio box is perfect for all dog breeds of all ages from toy to giant breeds. Who would like to have a taste of three premium mixes in one easy box.
A nourishing, convenient and nutritious ready-made meal prepared with love and packed full of goodness, with total freshness and easy freezer storage we make life healthy and easy, simply thaw and serve. Packs are conveniently in portion sizes, and delivered to your door. 
Mini includes:
4 x 500g Roo for Dogs 

4 x 500g Turkey

 for Dogs 

4 x 500g Beef 

for Dogs 
Small includes:
2 x 1kg Roo

 for Dogs 

2 x 1kg Turkey

 for Dogs 

2 x 1kg Beef

 for Dogs 
Medium includes:
4 x 1kg Roo

 for Dogs 

4 x 1kg Turkey

 for Dogs 

4 x 1kg Beef

 for Dogs 
Large includes:
1 x 5kg Roo

 for Dogs 

1 x 5kg Turkey

 for Dogs 

1 x 5kg Beef

 for Dogs 
Bulk includes:
4 x 5kg Roo

 for Dogs 

4 x 5kg Turkey

 for Dogs 

4 x 5kg Beef

 for Dogs 
Feeding guides, click here
Delivered frozen for freshness, safe to thaw 50% in the refrigerator to refreeze in portion sizes.
We recommend that if you wish to portion control your meals yourself, it is safe to semi-thaw meals in the refrigerator and refreeze immediately.
The perfect selection of proteins, ensuring your pets nutritional and dietary needs are meet across
our carefully formulated meals provided in this range of raw meals.
100% natural fresh meats with no preservatives, no additives. Pure whole-food ingredients packed with nutritional benefits, delivering a balanced diet for your pets essential health.
Australian sourced ingredients made in Australia with a proven Guaranteed Analysis Quality human grade ingredients.
View full details
The right size depends on your fur friends size, age and activity level. To learn more, see our 'Feeding Guides' in the footer.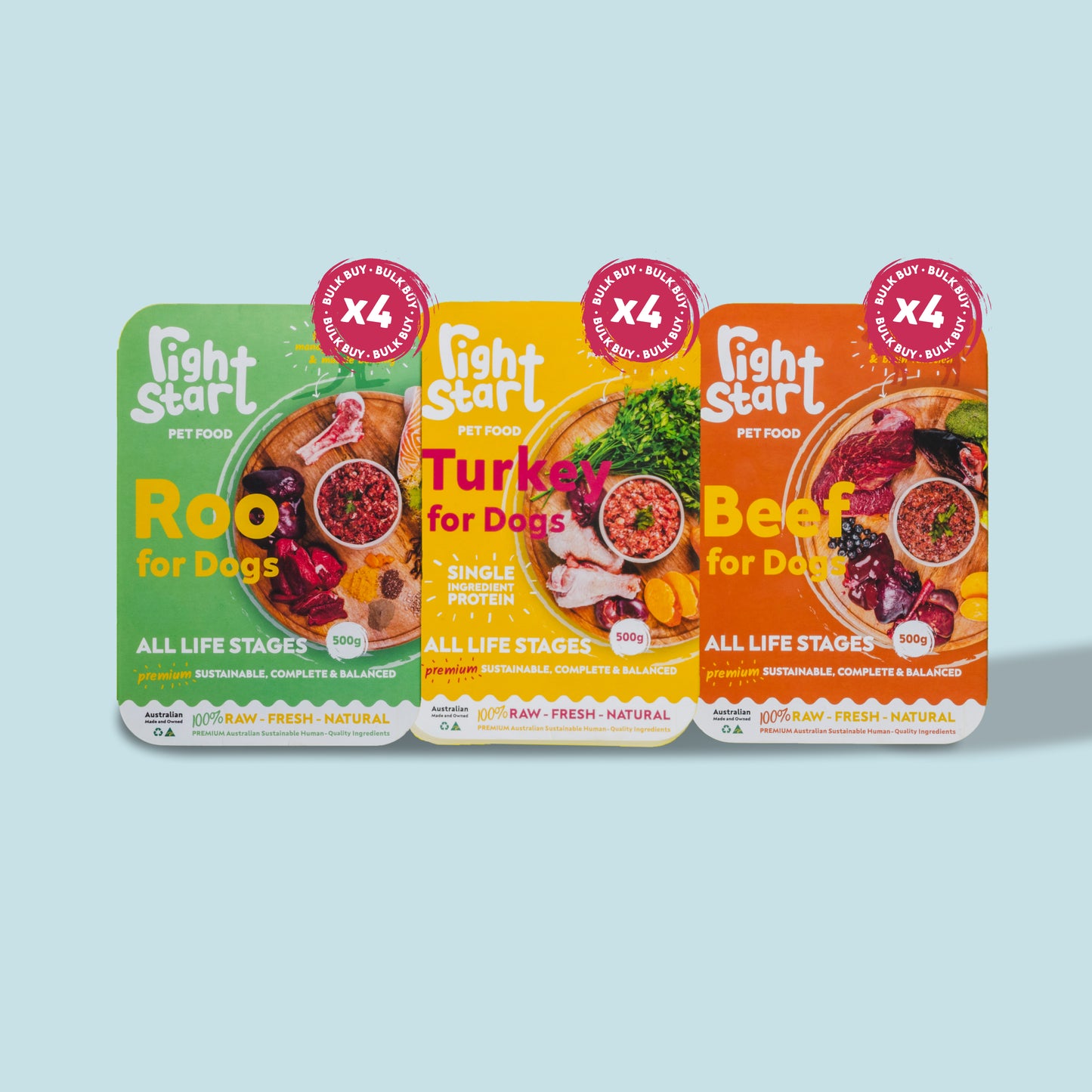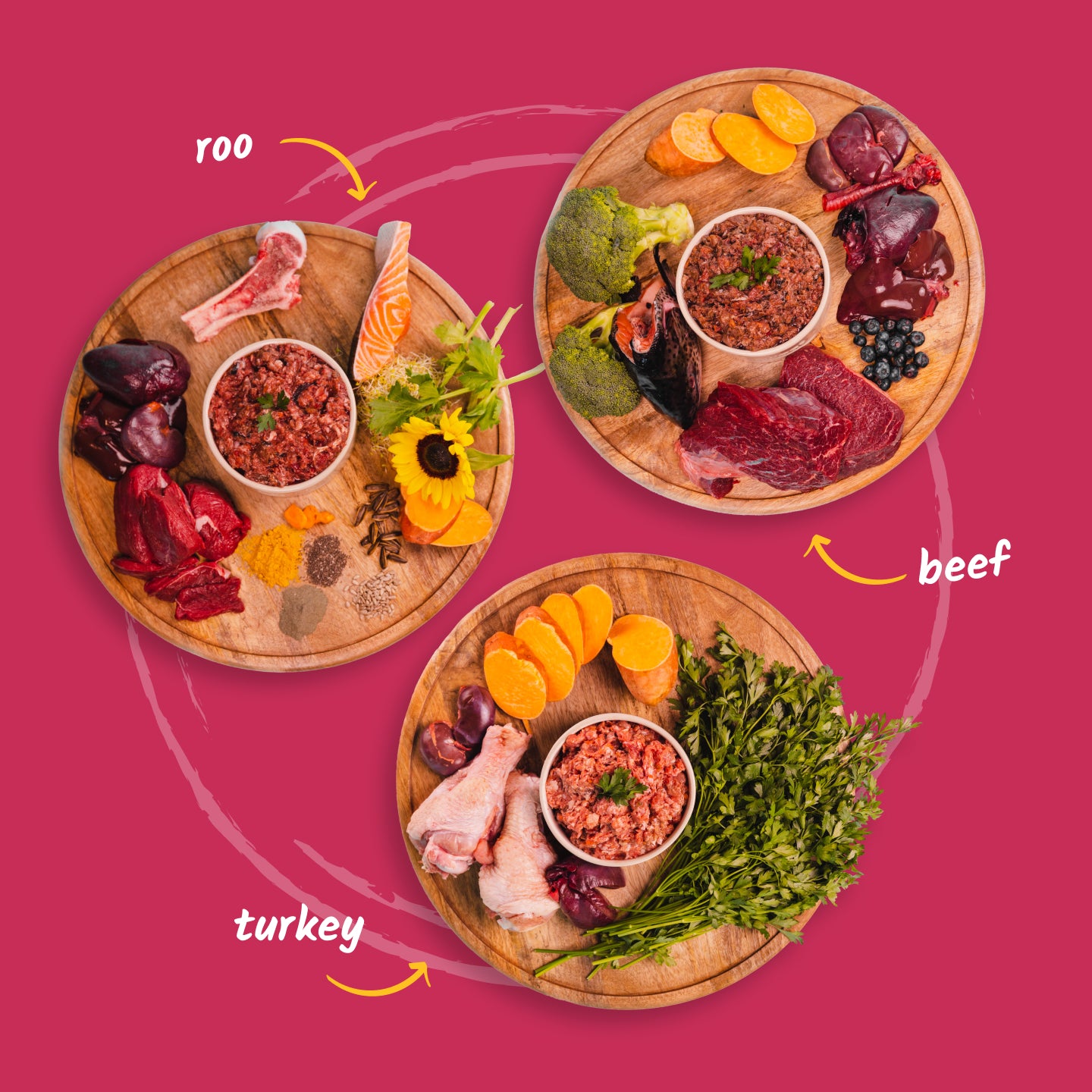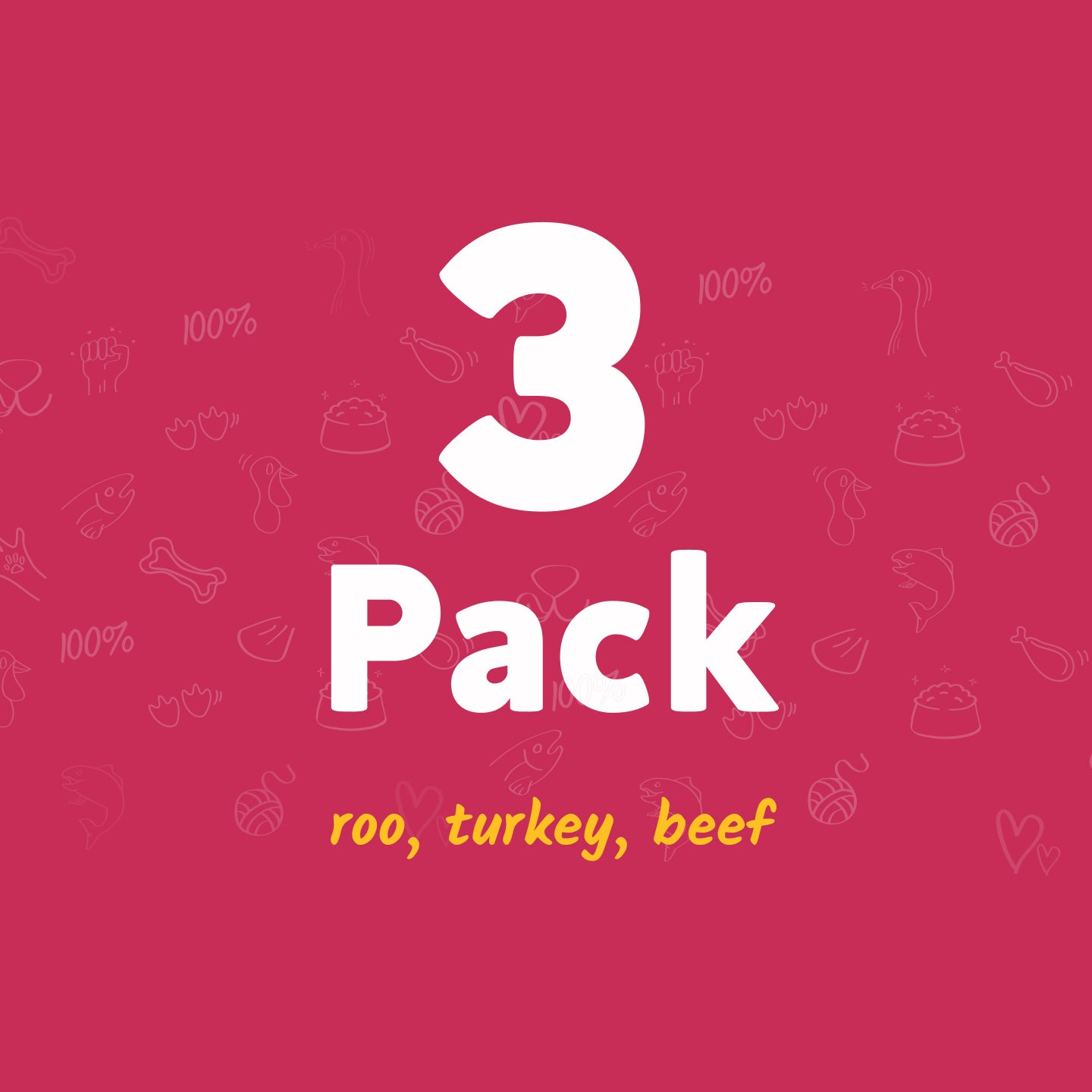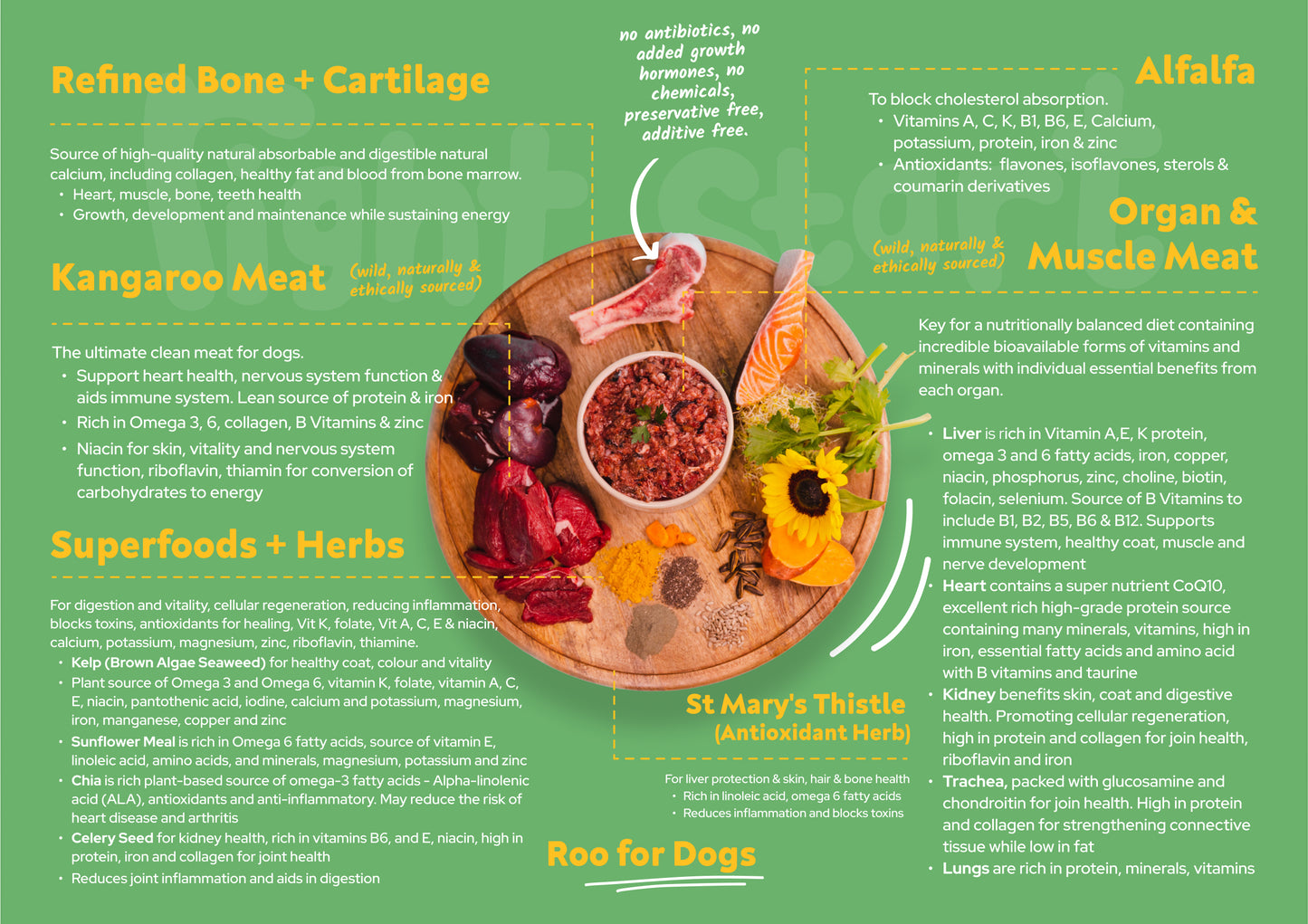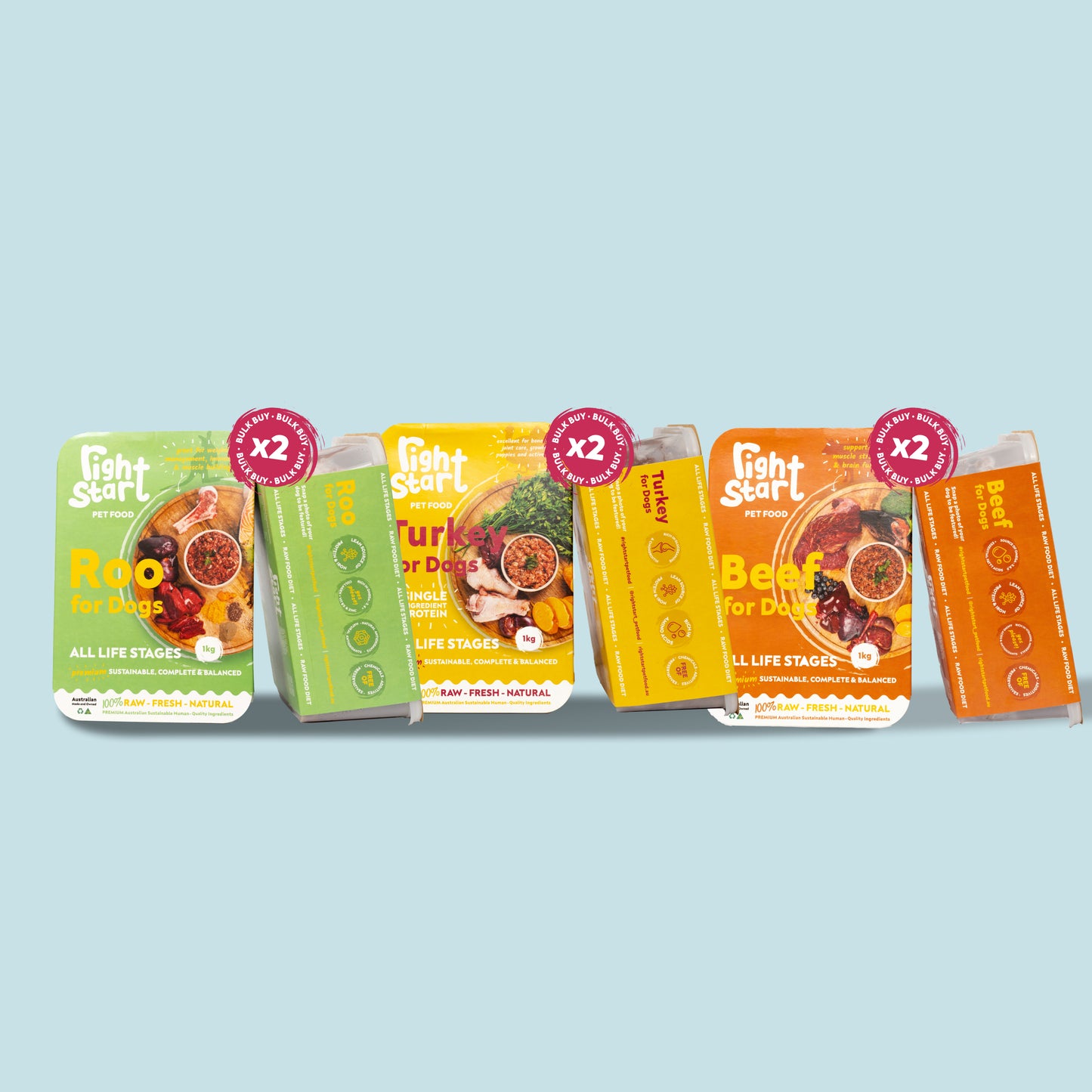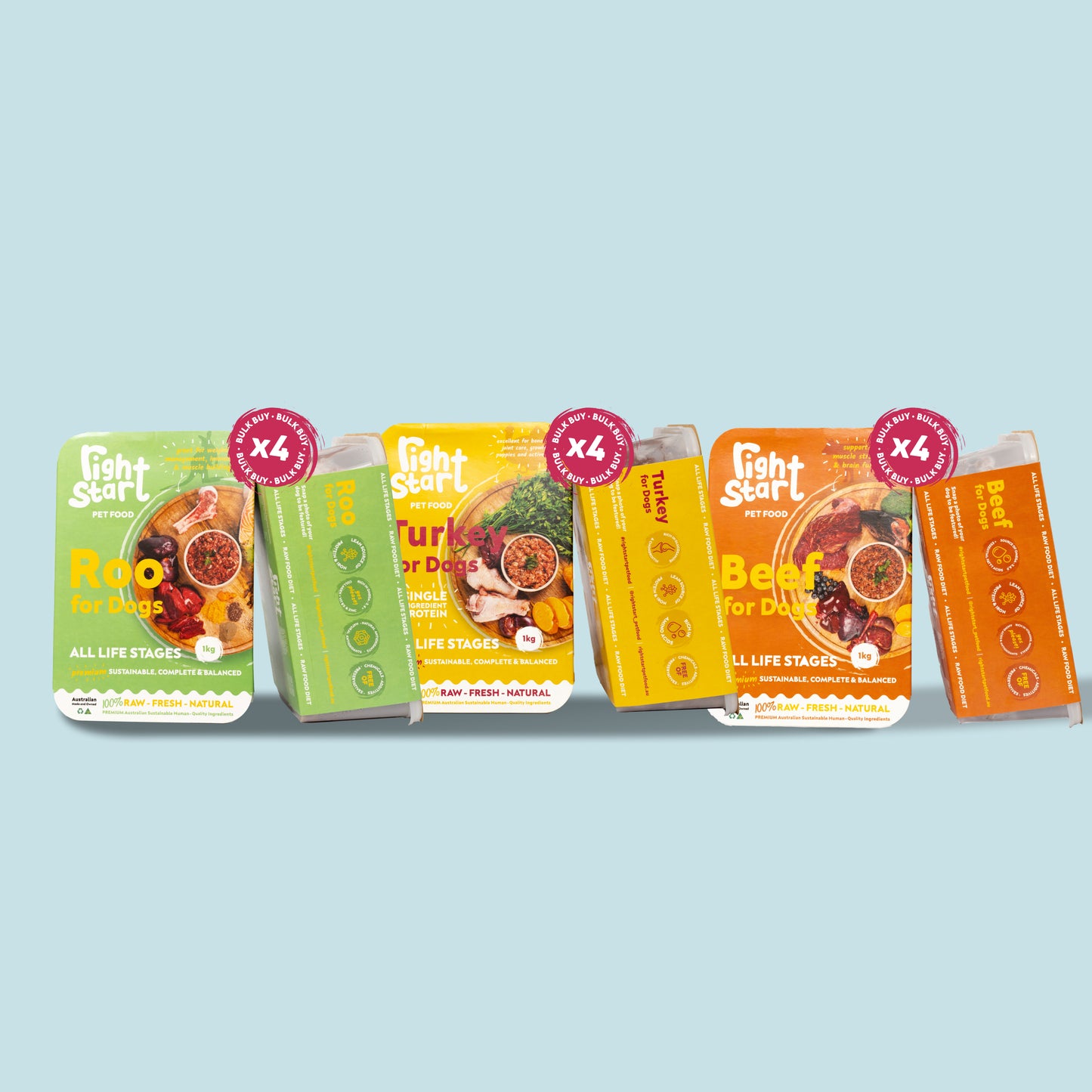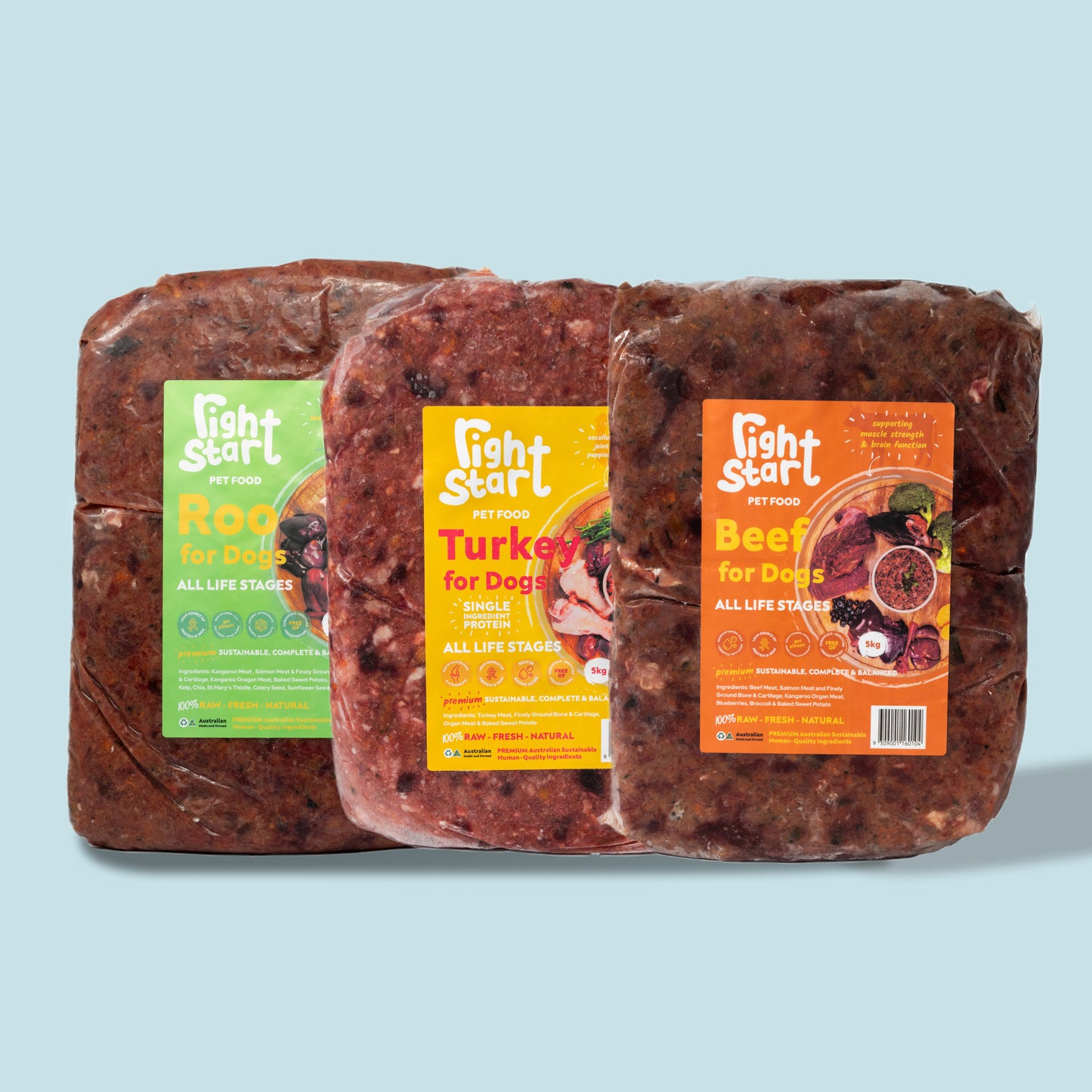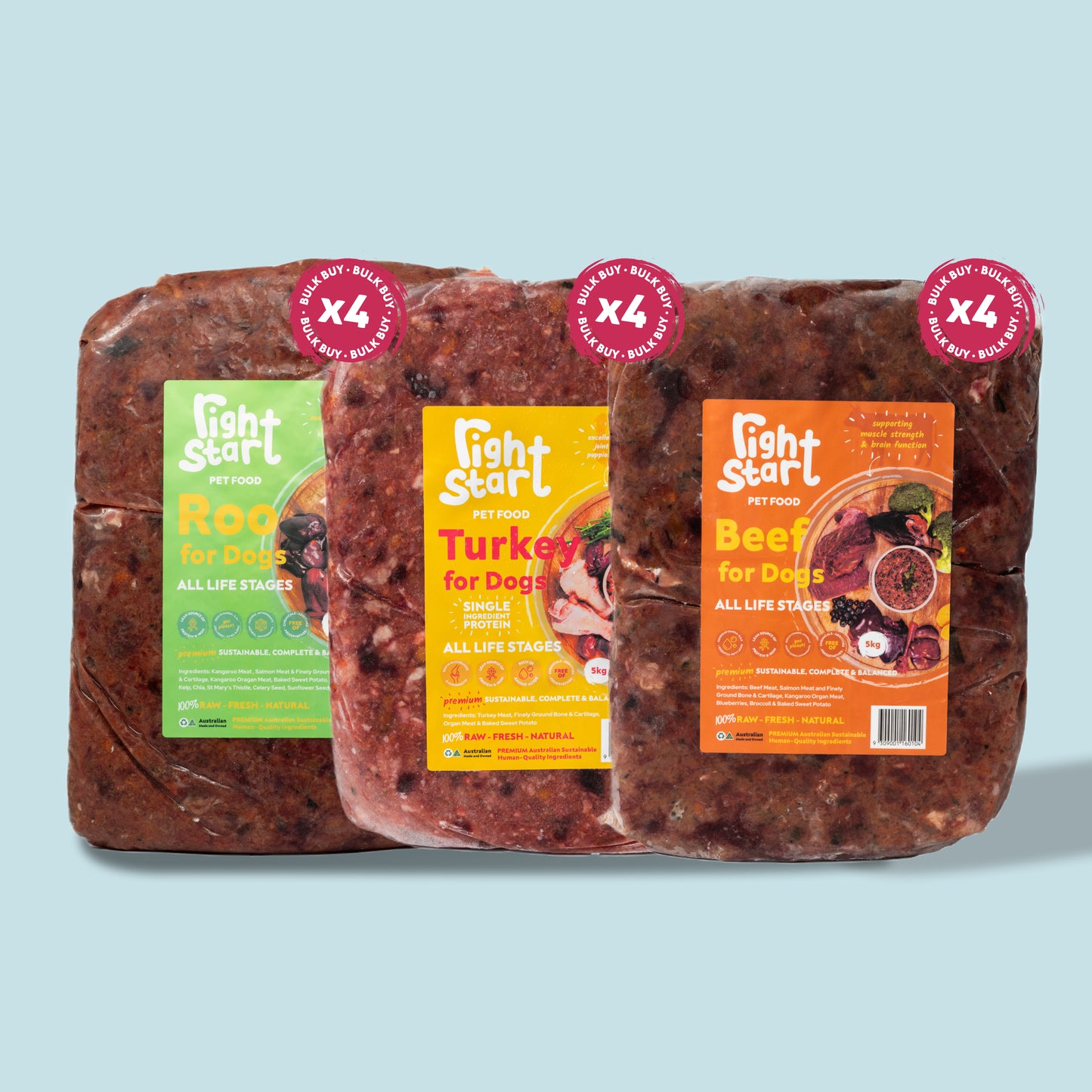 Frequently Asked Questions
Some of our minces have bones; check the pie graph to know what's in your Right Start meal.
Natural grass-fed is always best. We only source pure and grass-fed organ meats.
Puppies are weaned from their mother's milk from 4 to 6 weeks; they can consume Right Start meals as early as four weeks.
A fully sustainable nutritional meal offers nutrients, providing nourishment essential for maintaining all life stages and growth meeting their daily dietary needs. Complete and balanced means Right Start exceeds all the nutritional requirements, offering protein, fat, bone, organ vitamins, minerals, macro and micronutrients. Our recipes exceed the AAFCO nutritional standards; we work closely with leading holistic vets, optimising your pet's health through nutrition. Our recipes undergo testing with nutritional laboratories to guarantee nutritional outcomes for your pets.
All our meals contain zero grains and fillers.