Beef for Dogs
Tax included.
Suitable for puppy, adult & senior dogs
100% Australian made & sourced, human-quality ingredients
Complete & balanced raw diet
Results per 100g
Calories
224
Energy
938kj
Protein
14.2g
Crude Fat
18.1g
Fatty Acid Profile
Saturated Fat
5.7g
Trans Fat
0.2g
Mono Unsaturated Fat
9g
Poly-Unsaturated Fat
3.3g
Omega - 3
1.3g
Omega - 6
1.5g
Omega - 9
7.5g
| | |
| --- | --- |
| ALA | 392mg |
| EPA | 243mg |
| DHA | 452 |
Vitamins & Minerals
Calcium
855mg
Phosphorus
314mg
Dietary Fibre
9g
Carbohydrates
1.1g
Ash
2.1g
Moisture
63g
Beef Meat, Salmon Meat and Finely Ground Bone & Cartilage, Kangaroo Organ Meat, Blueberries, Broccoli & Baked Sweet Potato
Our sourced beef is grass fed & pasture raised in a clean environment. Providing benefits far greater than grain fed beef. 100% Australian human-quality natural, raw diet for dogs with beef as the #1 ingredient. Beef for dogs is a biologically appropriate premium raw, complete and balanced dog food. 
Feeding guides, click here
Delivered frozen for freshness, safe to thaw 50% in the refrigerator to refreeze in portion sizes.
We recommend that if you wish to portion control your meals yourself, it is safe to semi-thaw meals in the refrigerator and refreeze immediately.
Source of omega 3, 6, 9 + essential fatty acids for heart, brain, nervous system, skin & coat
Lean source of protein & iron, calcium, magnesium, phosphorus and copper. Low in fat
Rich in vitamins, minerals, amino acids & antioxidants
Promotes a healthy digestive tract
Supports heart health, bone density and immune system
Supporting muscle strength & brain function
View full details
The right size depends on your fur friends size, age and activity level. To learn more, see our 'Feeding Guides' in the footer.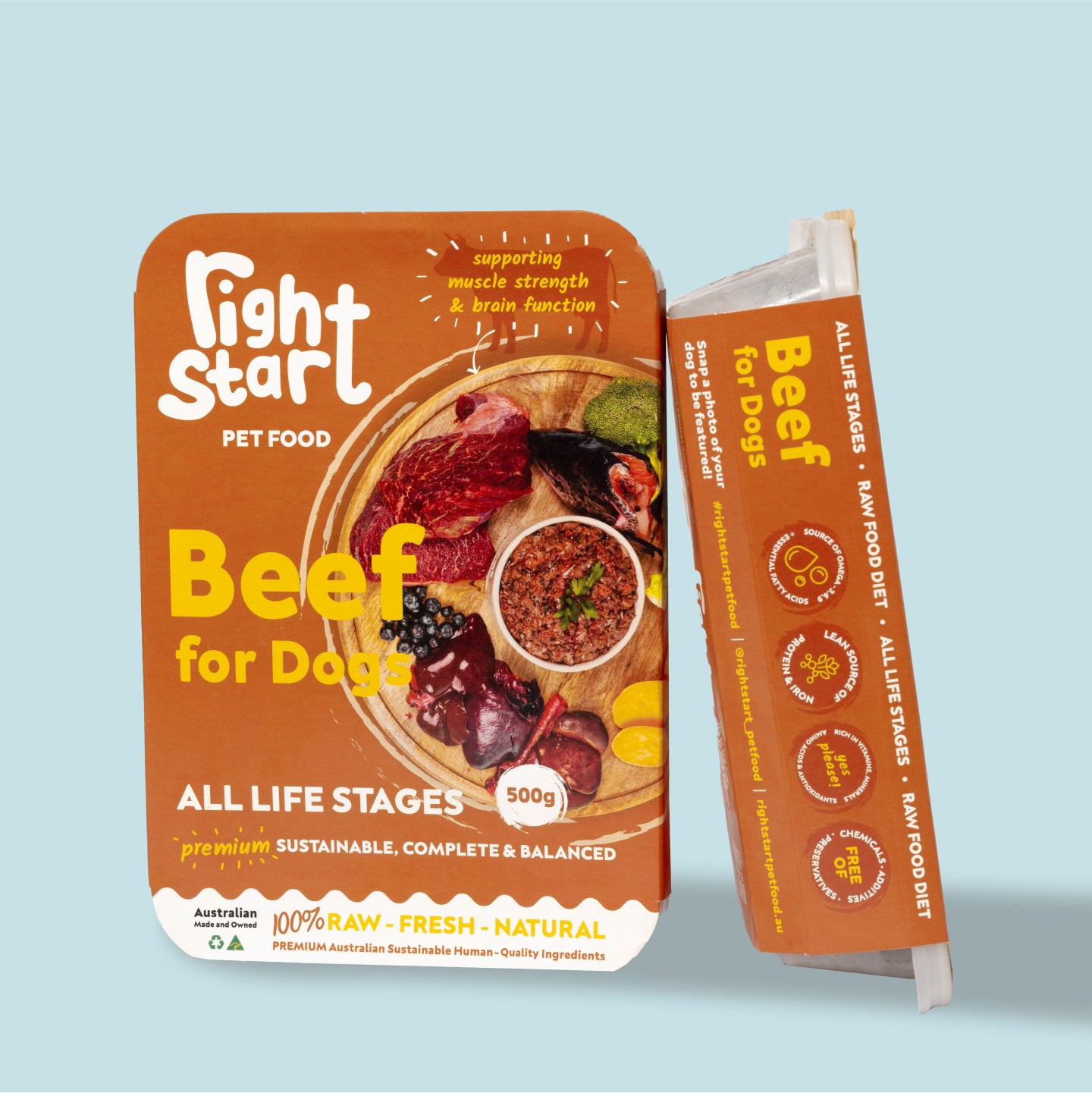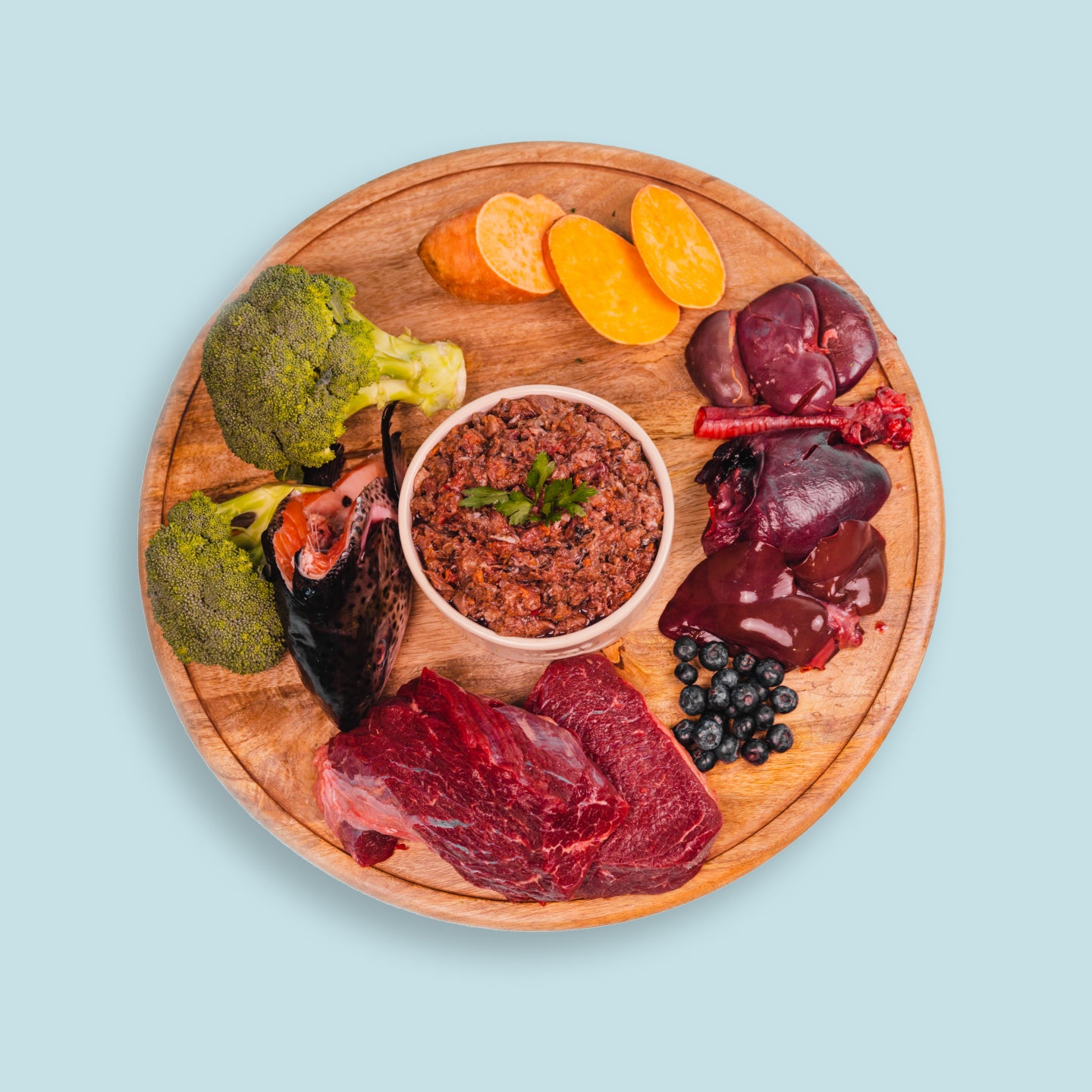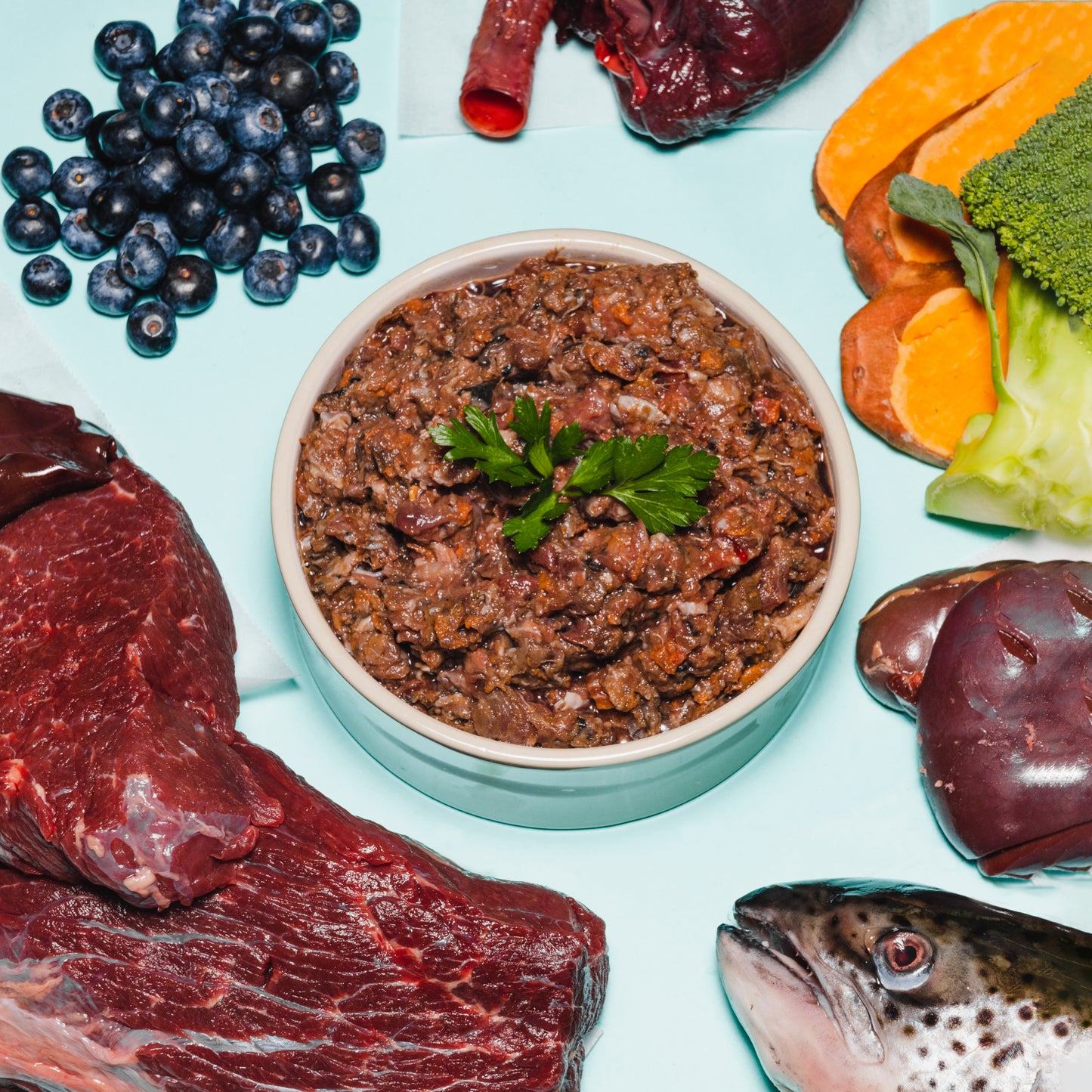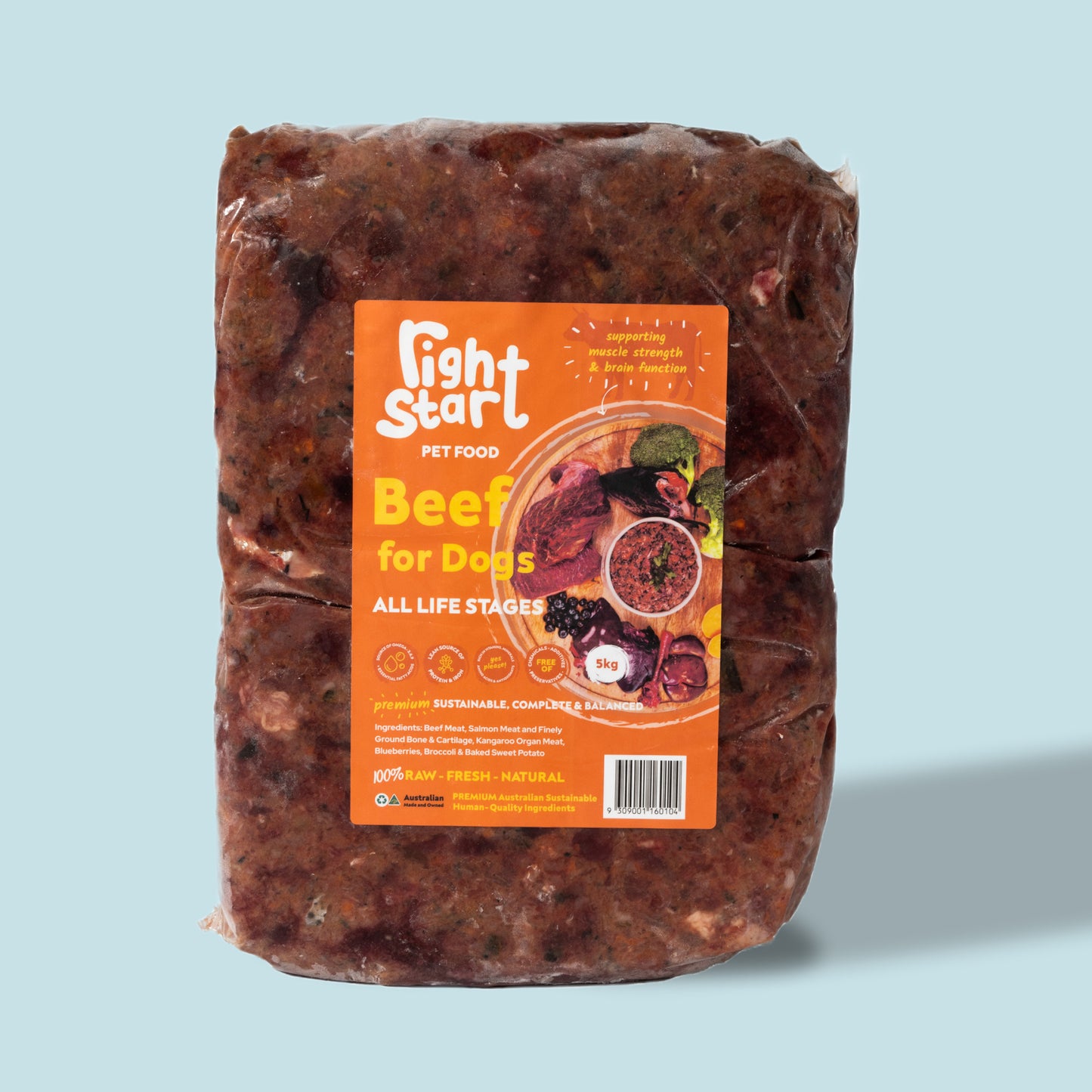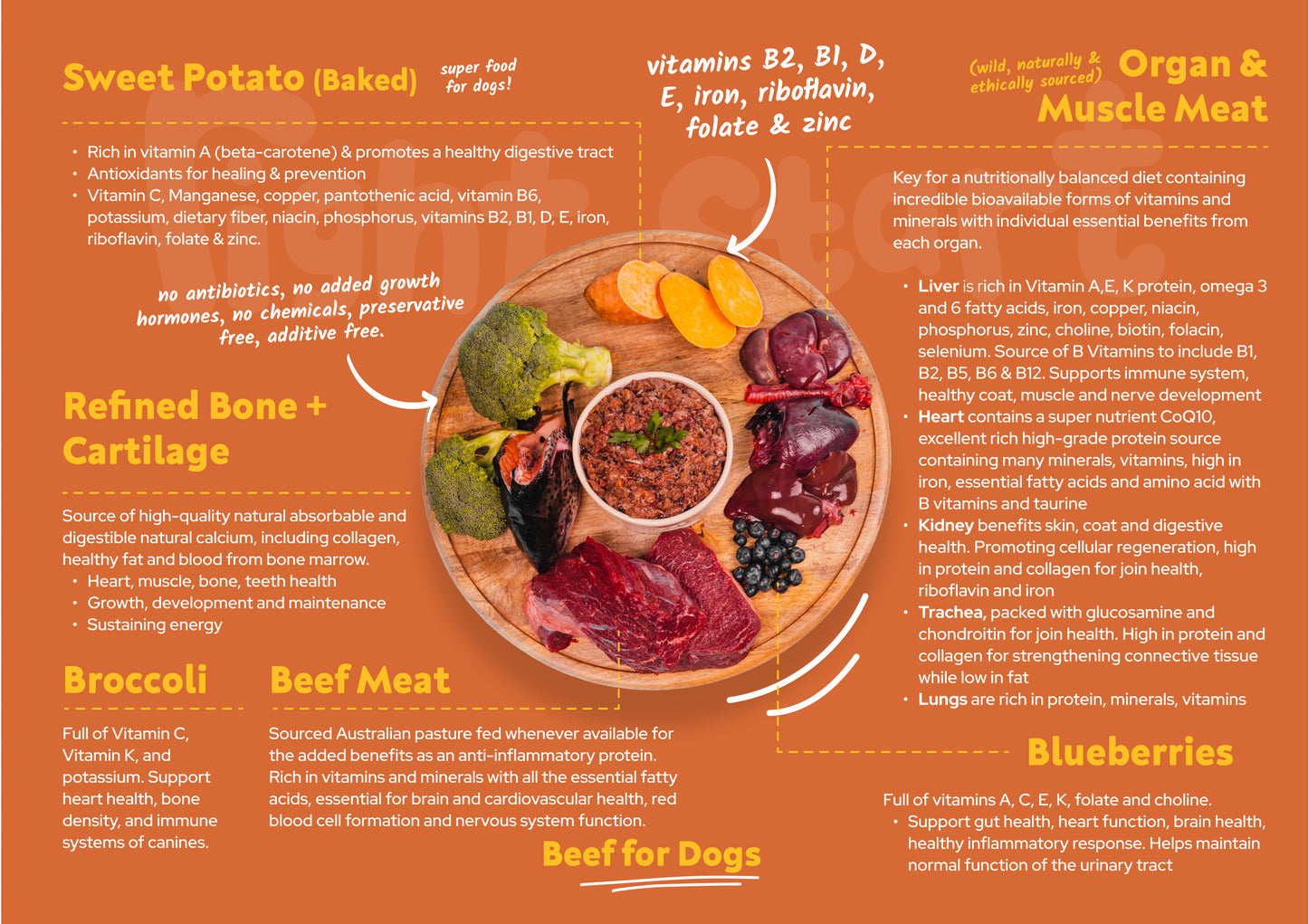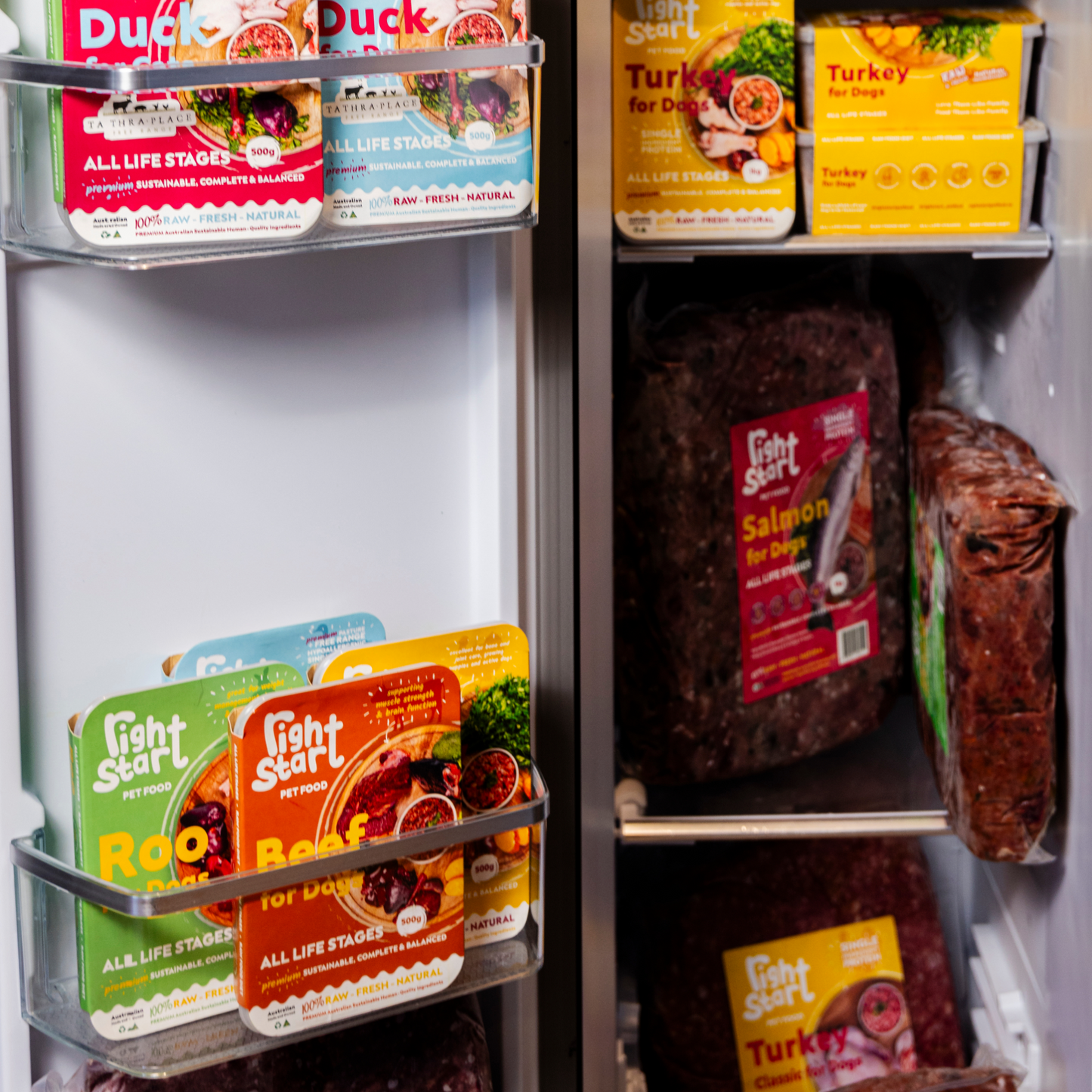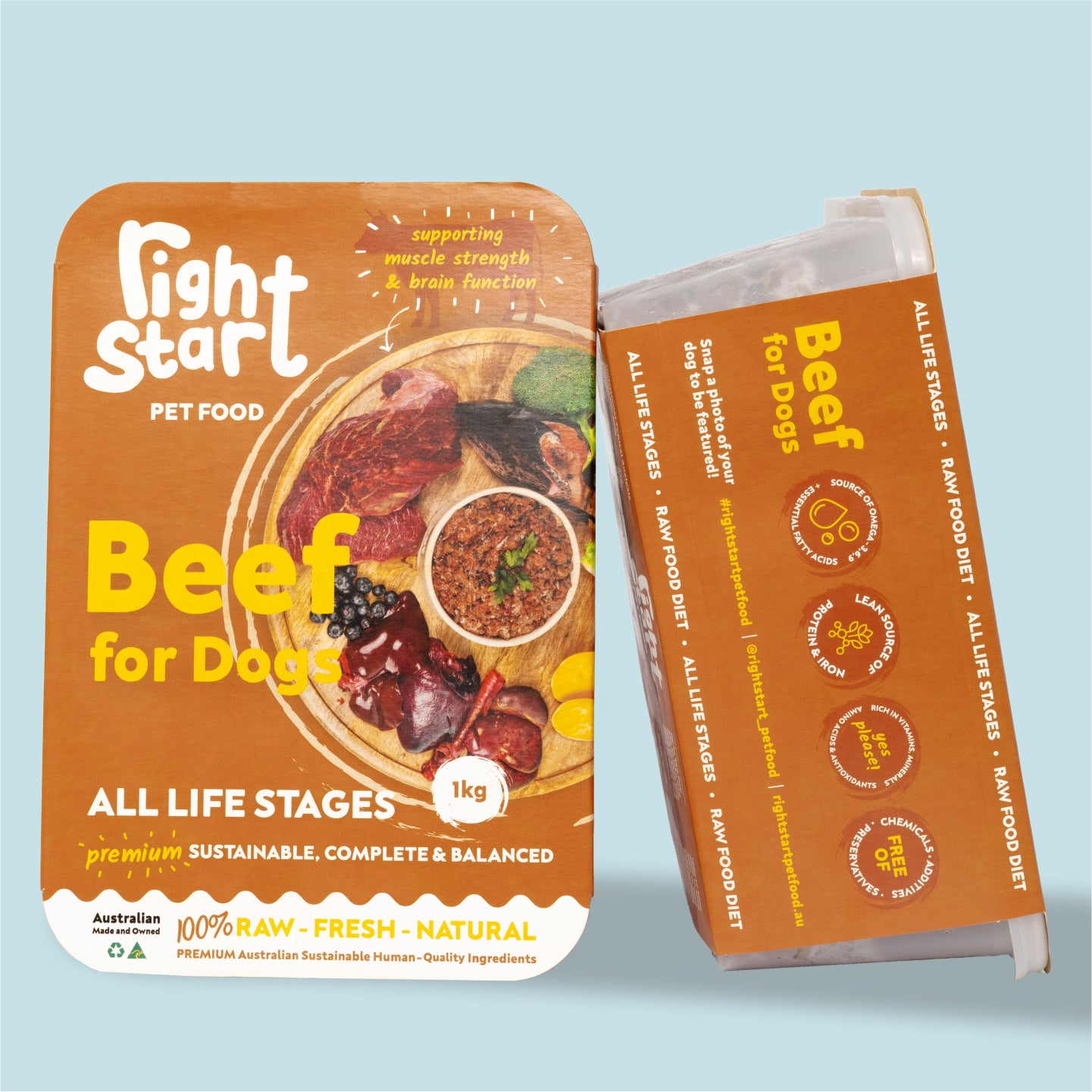 Made from 50% whole meat, 20% organ meat, 20% refined bone + cartilage, 10% fruit + veg

100% natural fresh meats with no preservatives, no additives. Pure whole-food ingredients packed with nutritional benefits, delivering a balanced diet for your pets essential health.

Australian sourced ingredients made in Australia with a proven Guaranteed Analysis Quality human grade ingredients.

All of our signature mixes are 100% natural premium raw whole food meals sourced from high- quality ingredients, prioritising organic, free-range, pasture raised, and wild-caught, ethically farmed options whenever possible.

We have meticulously created this entire diet, conducting years of research, study, and trials to develop Australia's first all-natural, protein-rich, and nutritionally sustainable complete meal.

RSPF is trusted with a typical nutritional analysis going beyond pet food industry standards.

With a Certificate of typical nutritional analysis report, featuring Omega-3, Omega-6, and Omega-9 fatty acids, along with all the essential macro and micro minerals.
Frequently Asked Questions
Dogs need a high-protein diet; beef is an excellent source of protein, offering many vitamins and minerals for your dog's overall health.
We use super refined bone and cartilage from salmon as the bone matter to balance the meal offering all the essentials needed.
Beef is high in protein, iron, selenium, zinc and vitamins B12, B3 and B6.