Roo Box for Dogs
Tax included.
Suitable for puppy, adult & senior dogs
100% Australian made & sourced, human-quality ingredients
Complete & balanced raw diet
Results per 100g
Protein
12.0g
Calories
171
Energy
715kj
Crude Fat
13.7g
Fatty Acid Profile
Saturated Fat
3.3g
Trans Fat
0.1g
Mono-Unsaturated Fat
7.4g
Poly-Unsaturated Fat
3.1g
Omega - 3
1.2g
Omega - 6
1.9g
Omega - 9
6.2g
Vitamins & Minerals
Calcium (Ca)
855mg
Copper (Cu)
0.5mg
Iron (Fe)
15.7mg
Magnesium (Mg) (P)
51mg
Phosphorus (P)
590mg
Sodium (Na)
111mg
Kangaroo Meat, Salmon Meat & Finely Ground Bone & Cartilage, Kangaroo Organ Meat, Baked Sweet Potato, Alfalfa, Kelp, Chia, St Mary's Thistle, Celery Seed, Sunflower Seed
Our complete and balanced signature meal (formerly - 'Paleo for Dogs') with kangaroo as the #1 ingredient. Kangaroo is the ultimate clean meat for dogs and a lean source of protein & iron.

Roo for dogs is a biologically appropriate premium raw meal. This whole food meal is sourced from premium quality ingredients, free range and wild whenever possible. 100% natural, raw dog food. It is a fresh appropriate diet, that will provide healthy generations of animals. 
Feeding guides, click here
Delivered frozen for freshness, safe to thaw 50% in the refrigerator to refreeze in portion sizes.
We recommend that if you wish to portion control your meals yourself, it is safe to semi-thaw meals in the refrigerator and refreeze immediately.
Great for weight management, immunity & muscle building
Lean source of protein and iron maintaining energy + joint support
Rich in omega 3, 6 + collagen + vit B's & Zinc
Natural antioxidants supporting wellness, healthy skin + coat
Supports heart health, nervous system function & aids the immune system
Anti-inflammatory & hypoallergenic, supporting good gut health.
View full details
The right size depends on your fur friends size, age and activity level. To learn more, see our 'Feeding Guides' in the footer.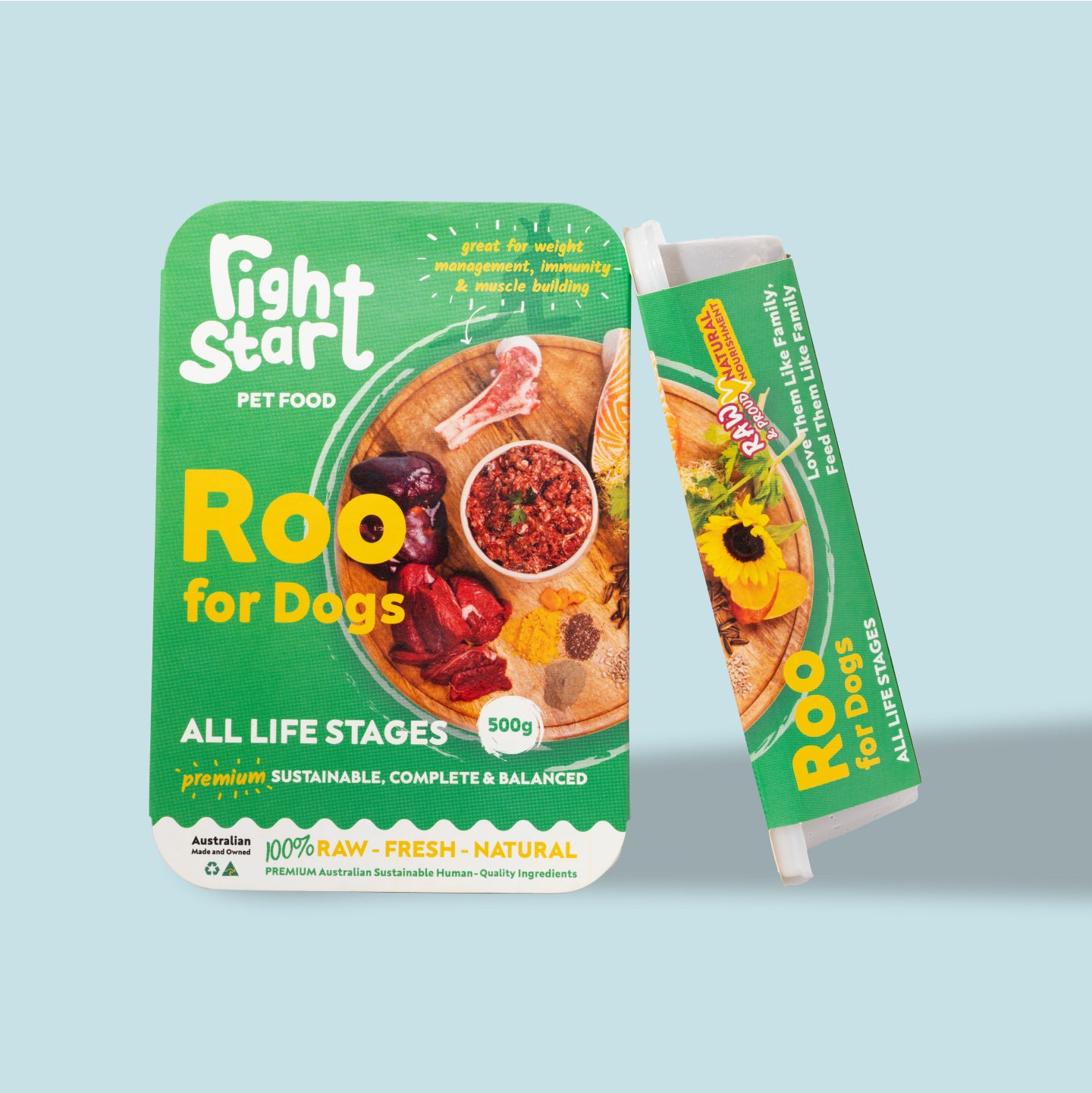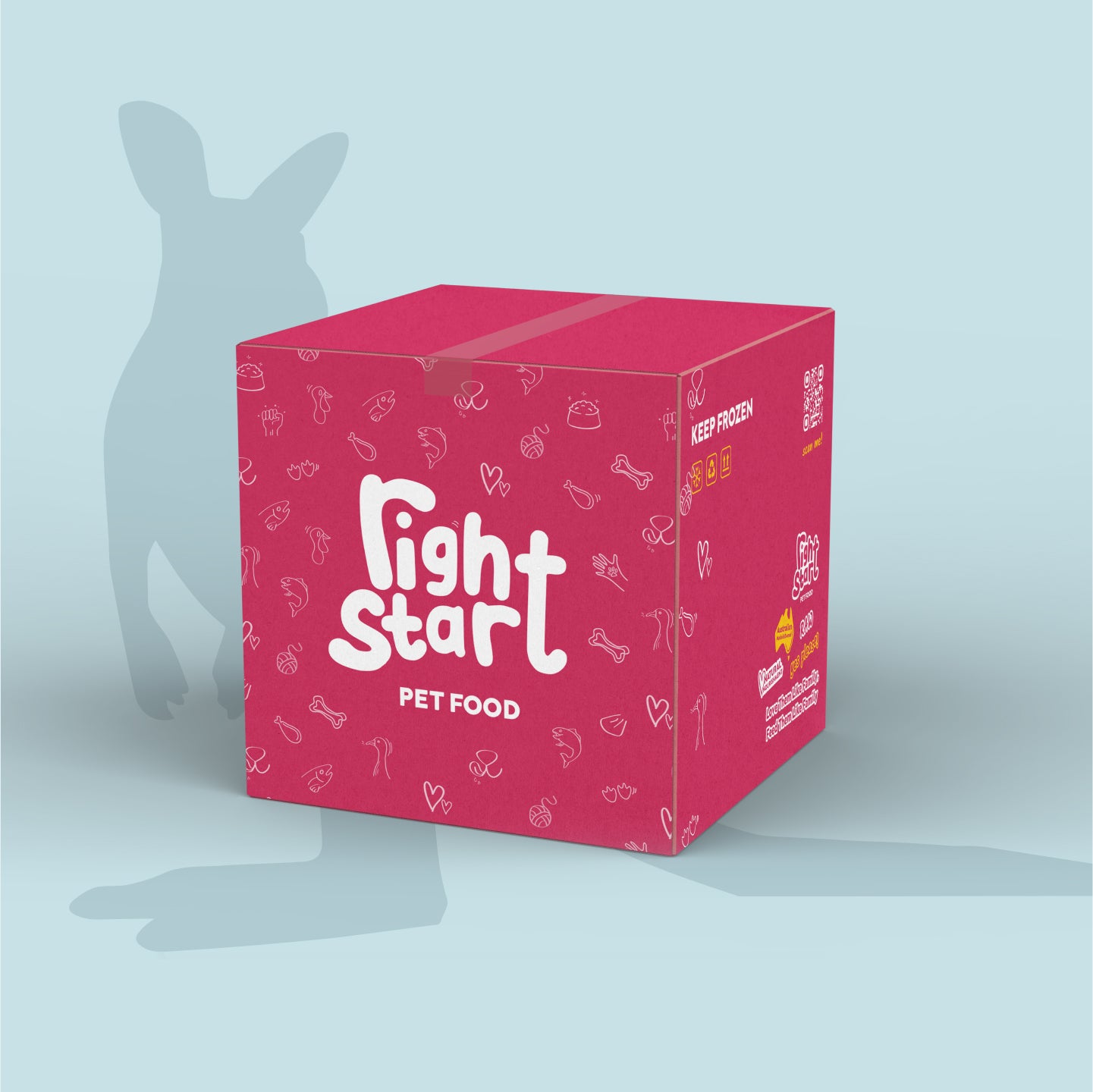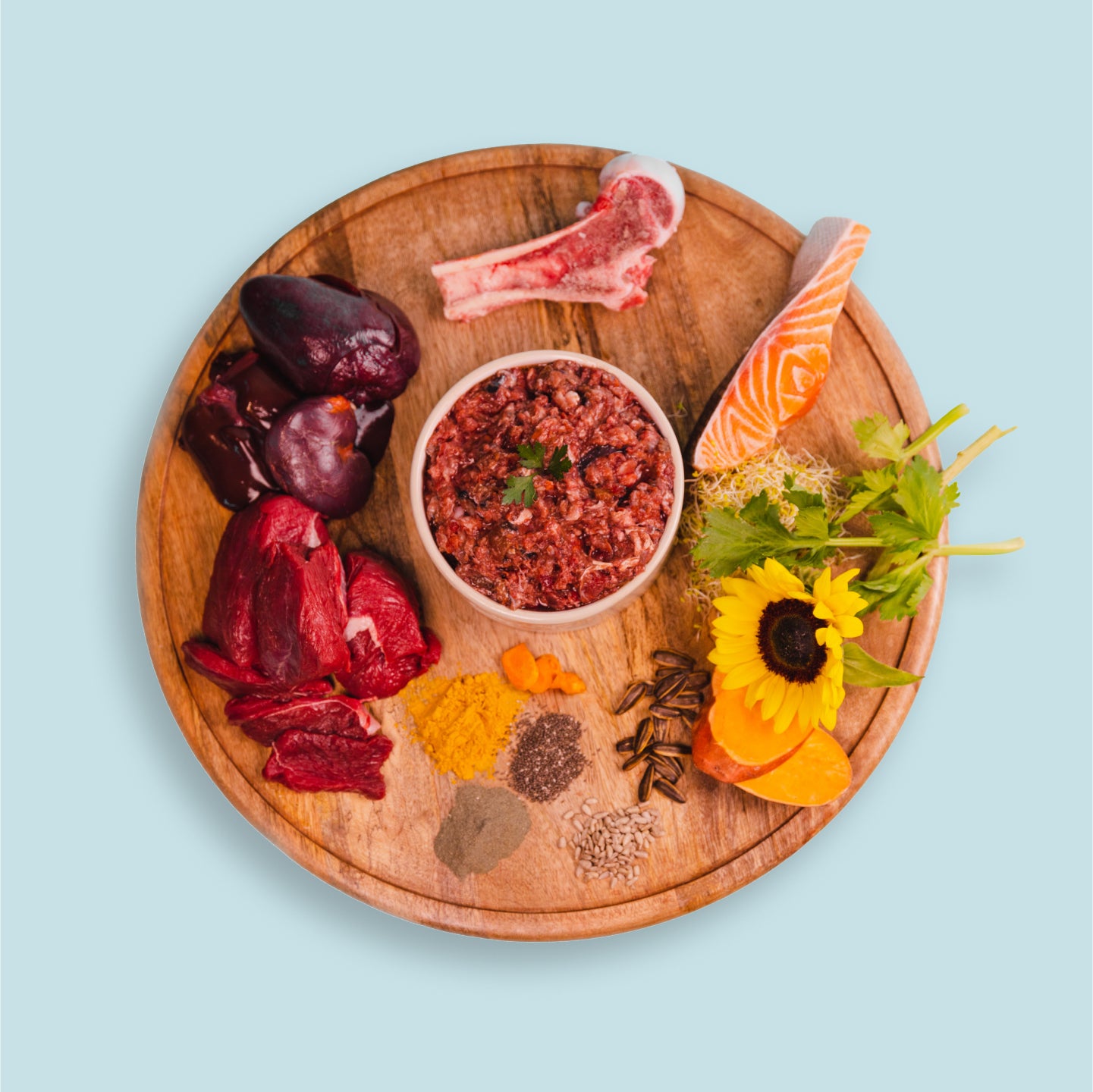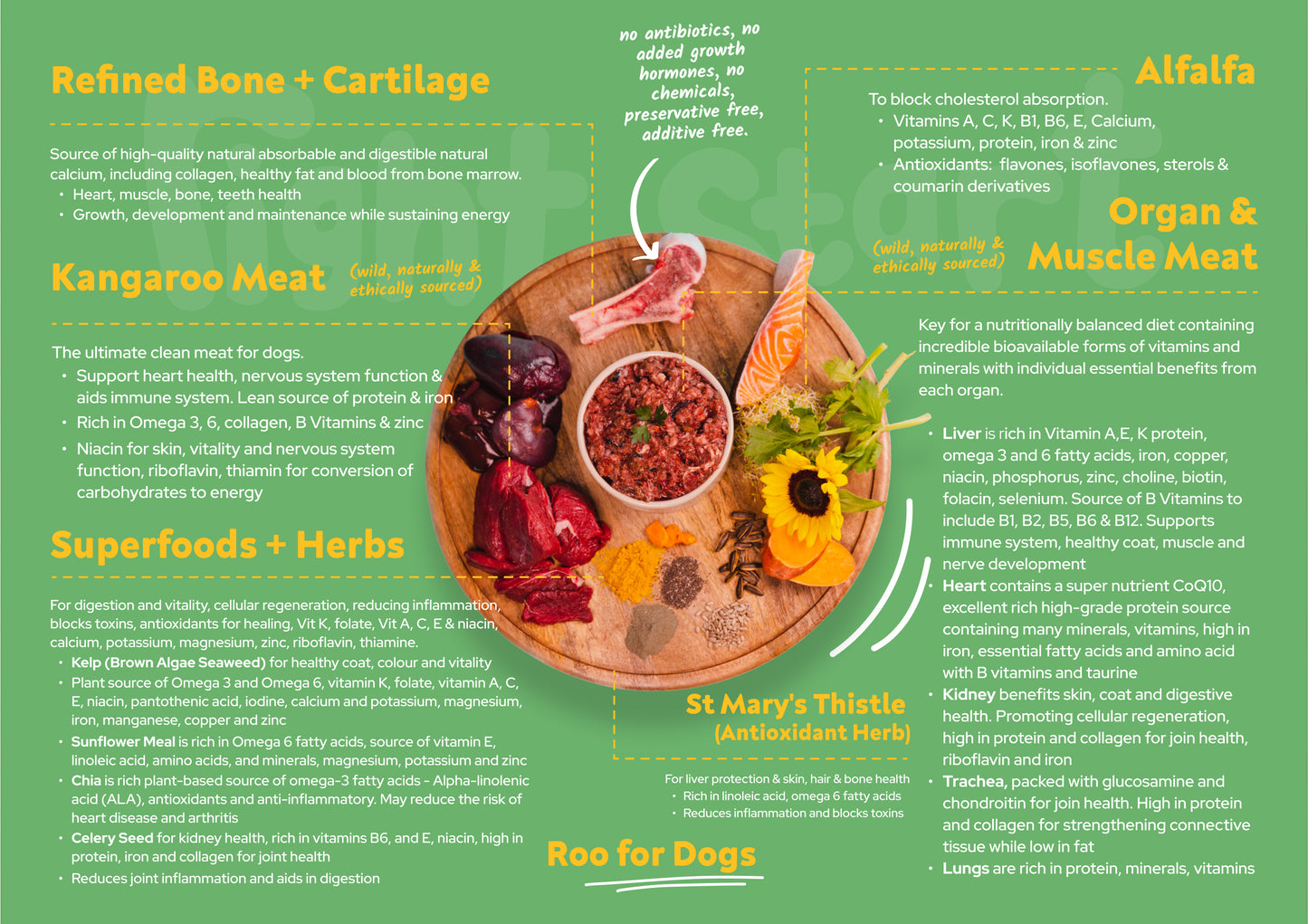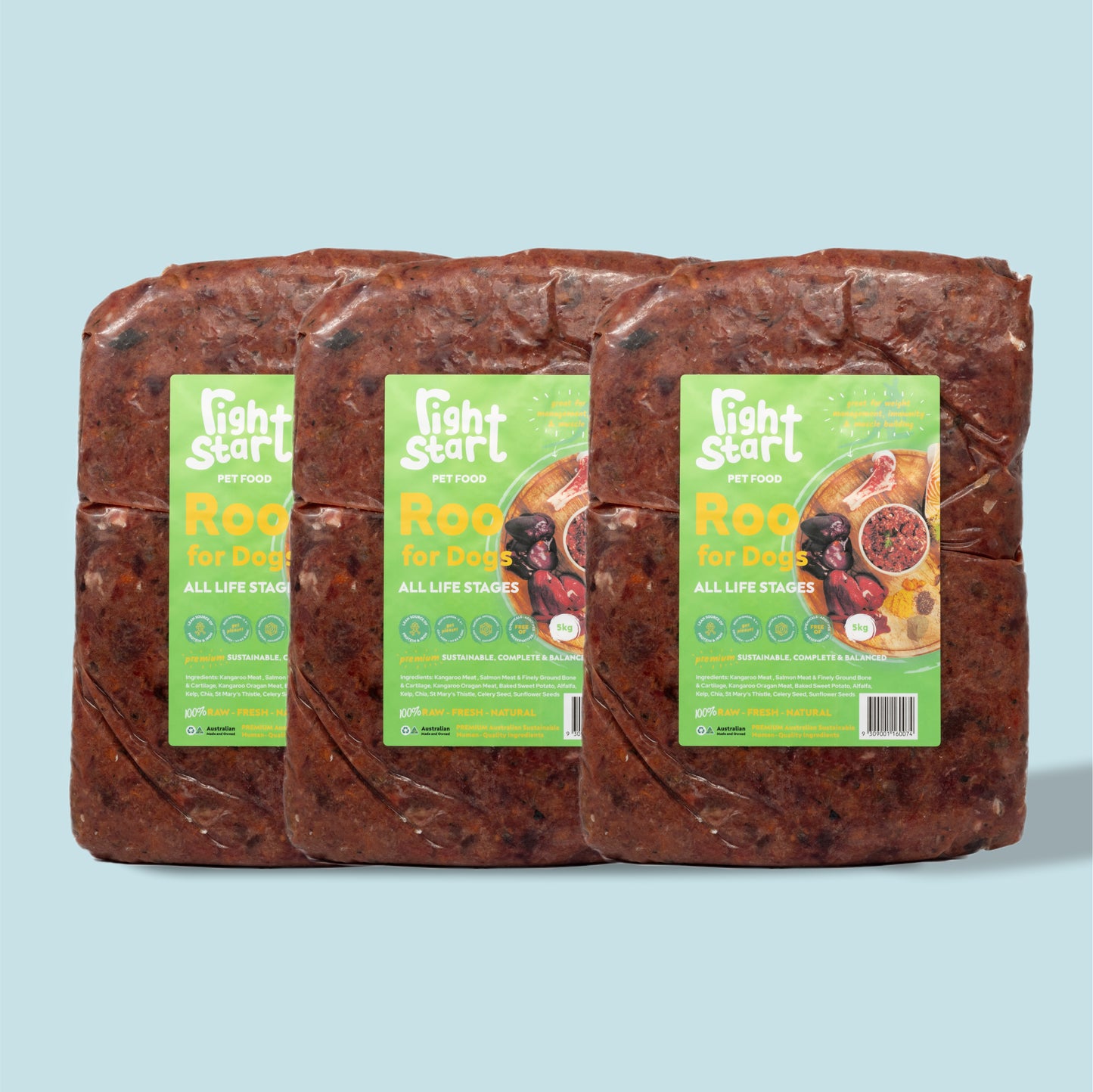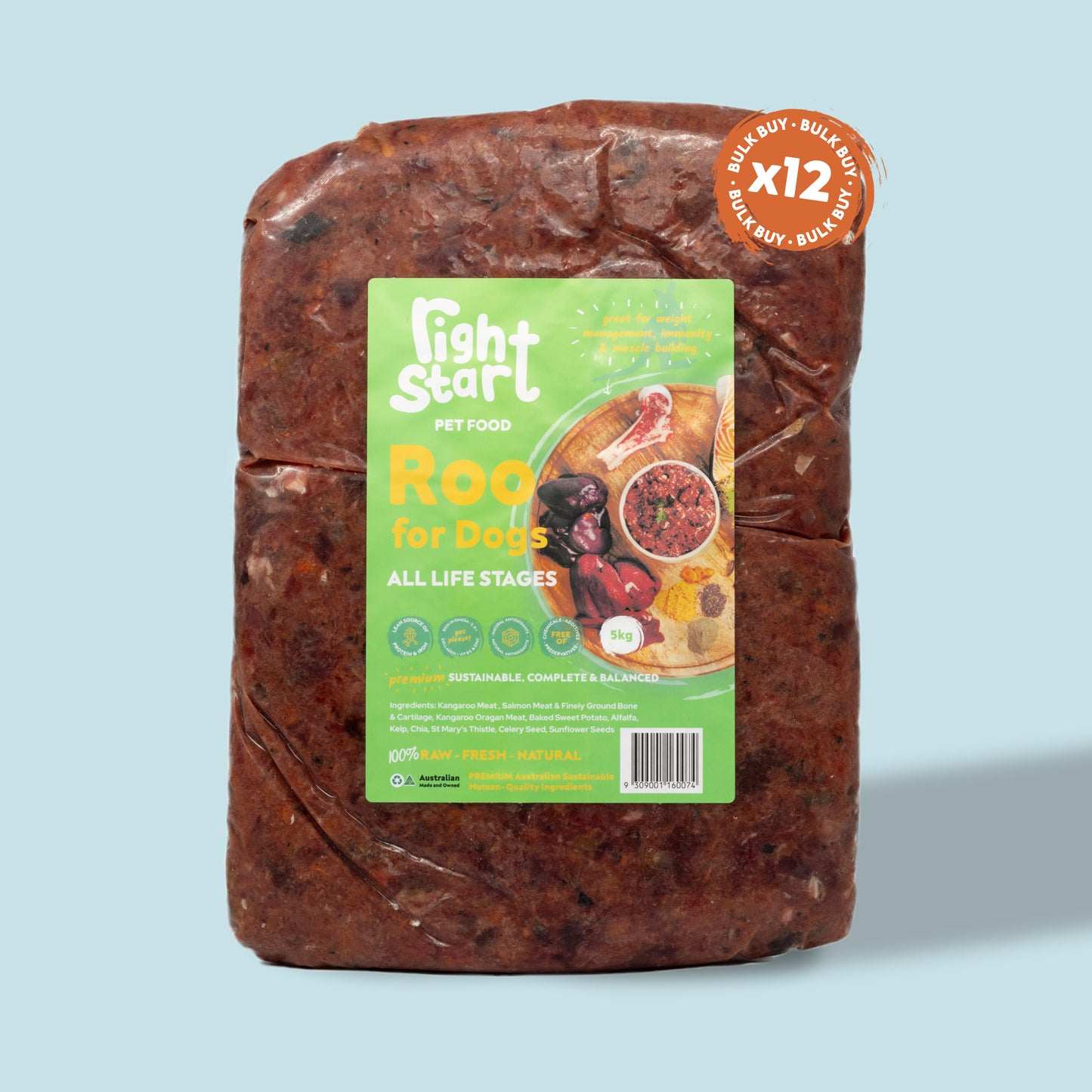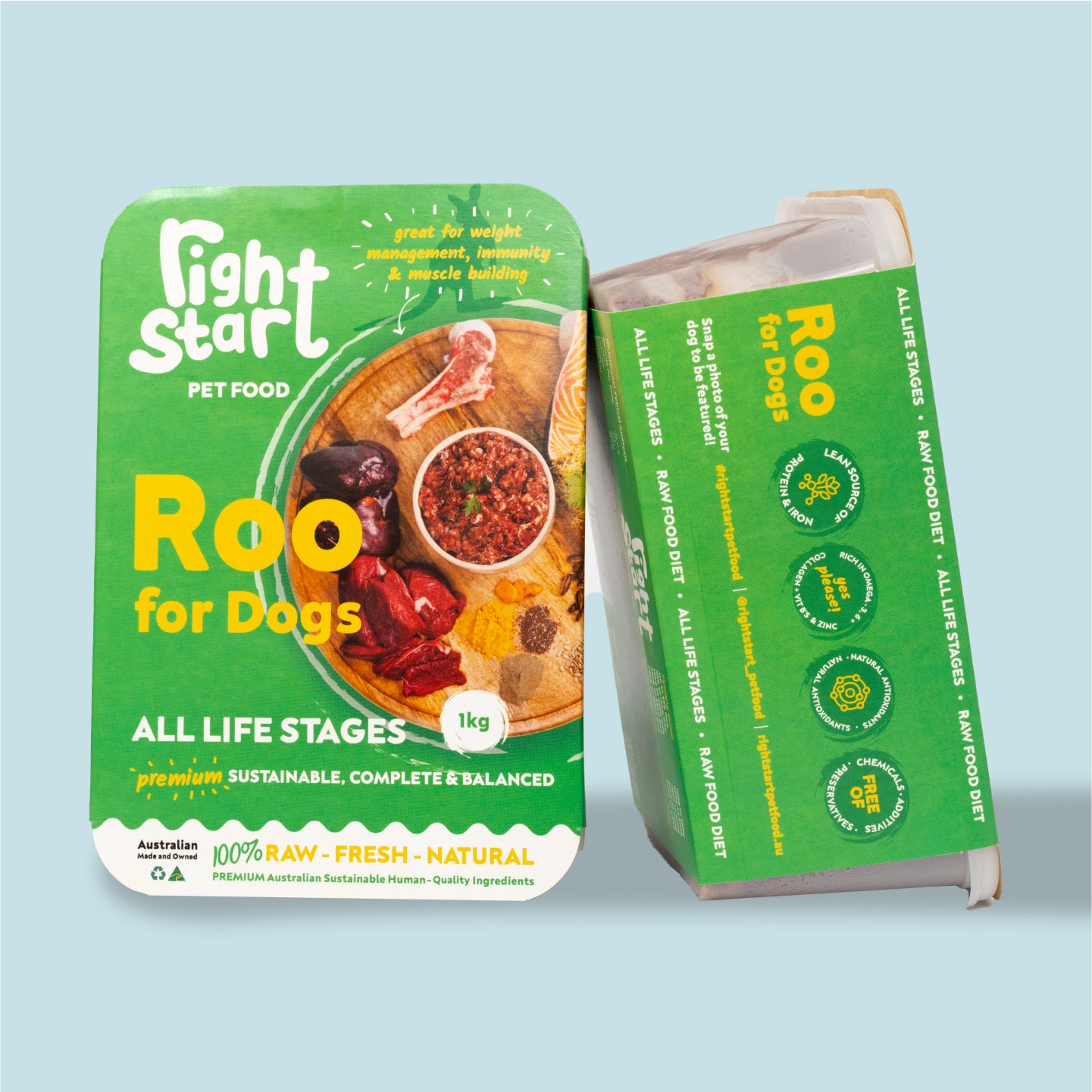 Kangaroo Meat for Dogs: Suitable for All Ages
Kangaroo meat is not only delicious but also provides an ideal balance of nutrients. 
From Roo kangaroo tails to kangaroo mince and kangaroo bones, our kangaroo dog food products cater to your pet's unique dietary needs. 
The distinctive nutritional profile of kangaroo meat makes it an outstanding choice for your beloved pets. Here's how it can benefit dogs at different life stages.
Order Bulk Kangaroo Meat For Dogs
Whether you have a single large-breed dog or a pack of furry friends. Right Start Pet Food supplies bulk Roo meat orders in NSW, ACT, QLD & VIC. 
Delivered fast and fresh, pet parents have nothing to worry about. Order now and give your furry friend the nutrition and taste they deserve.
Frequently Asked Questions
Yes, absolutely. Kangaroo meat is generally a good source of protein for dogs. It is low in fat and cholesterol. The raw kangaroo meat at Right Start Pet Food is sourced from high-quality ingredients in Australia.
Raw kangaroo meat for dogs is lean and rich in protein. It is a healthy alternative to traditional meats like beef or chicken. It's also a good option for dogs with food sensitivities
At Right Start Pet Food, all mixes and products contain raw meat that must be kept frozen until they are ready for thawing.  Once the meat has thawed, it can be consumed within 3-5 days. 

For related details, check our storage and care instructions. 
For puppies, it's recommended to feed them around 5-6% of their body weight. This amount will vary and reduce as the pup goes through different growth stages until adulthood. 

Read the feeding guide for detailed instructions. 
While you can place an order with us 24/7, we recommend ordering by Tuesday at 2 p.m. to ensure the fastest and freshest possible delivery.