Turkey for Dogs
Tax included.
Suitable for puppy, adult & senior dogs
100% Australian made & sourced, human-quality ingredients
Complete & balanced raw diet
Chemical free, preservative free & additive free
Results per 100g
Calories
137
Energy
574kj
Protein
20.1g
Crude Fat
5.4g
Vitamins & Minerals
Magnesium
5.0g
Calcium
3.0g
Thiamin
6.0g
Phosphorus
19.0g
Iron (Fe)
11.0g
Vitamin B 6
18.0g
Vitamin B 12
7.0g
Turkey Meat, Finely Ground Bone & Cartilage, Organ Meat & Baked Sweet Potato
100% natural, raw diet for dogs with Turkey as the #1 ingredient. This mix is a biologically appropriate, raw dog food mix. Made with 100% turkey meat & bone, turkey organ, turkey muscle & baked sweet potato. The right mix for a balanced raw diet for dogs. TURKEY is a great alternative to chicken. This raw dog food has no added growth hormones. With so many dogs experiencing issues or having reactions to chicken, turkey is a win with many dogs as it is highly digestible.
Ideal for reducing inflammation, antioxidant-rich happy Gi tract health, allergy friendly, boost gut and microbiome, suitable for growing and active dogs, puppies, adults and seniors. Turkey is brilliant for growing puppies, whelping or pregnant, performance and working dogs due to the derived energy source of lean protein for body conditioning and weight management.
Feeding guides, click here
Delivered frozen for freshness, safe to thaw 50% in the refrigerator to refreeze in portion sizes.
We recommend that if you wish to portion control your meals yourself, it is safe to semi-thaw meals in the refrigerator and refreeze immediately.
Rich in glucosamine + chondroitin for bone and joint care, growing puppies and active dogs
Lean source of protein & iron
Rich in amino acids, omega 3, 6, fatty acids, B vitamins & minerals
Brain + heart function & support
Low in fat and highly digestible for healthy strong muscles and development
Hypoallergenic and great for sensitive skin, coat and tummies, allergies & fussy eaters
View full details
The right size depends on your fur friends size, age and activity level. To learn more, see our 'Feeding Guides' in the footer.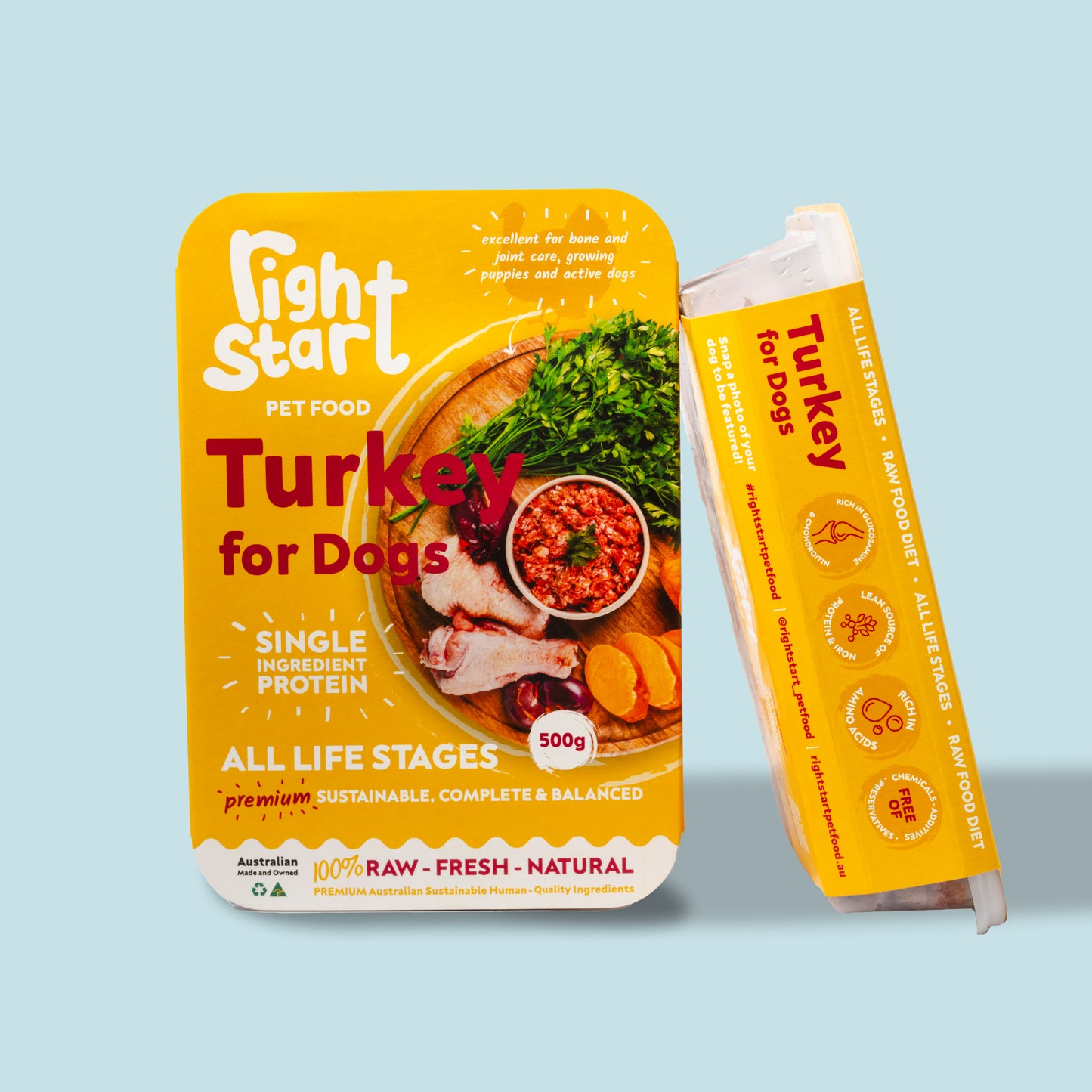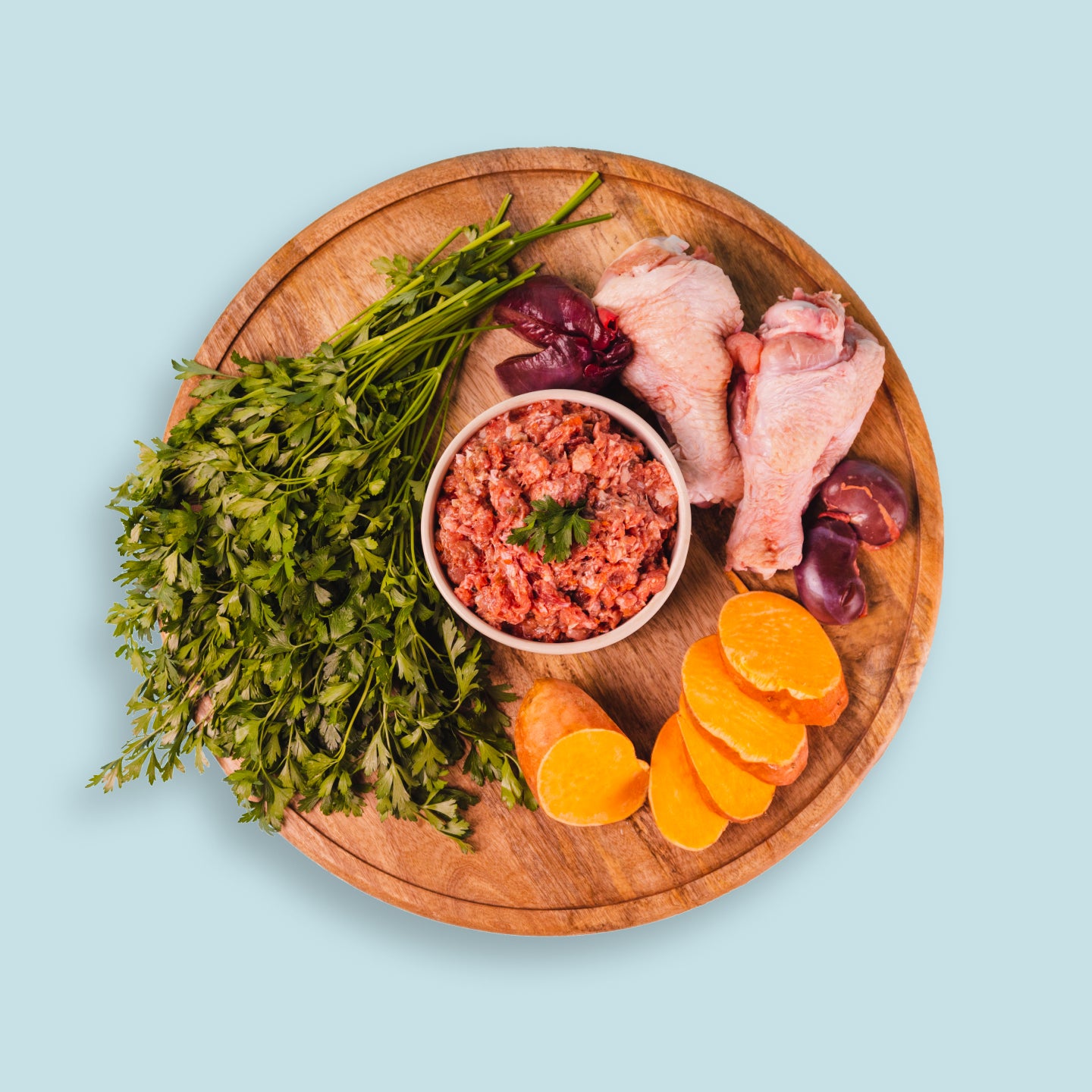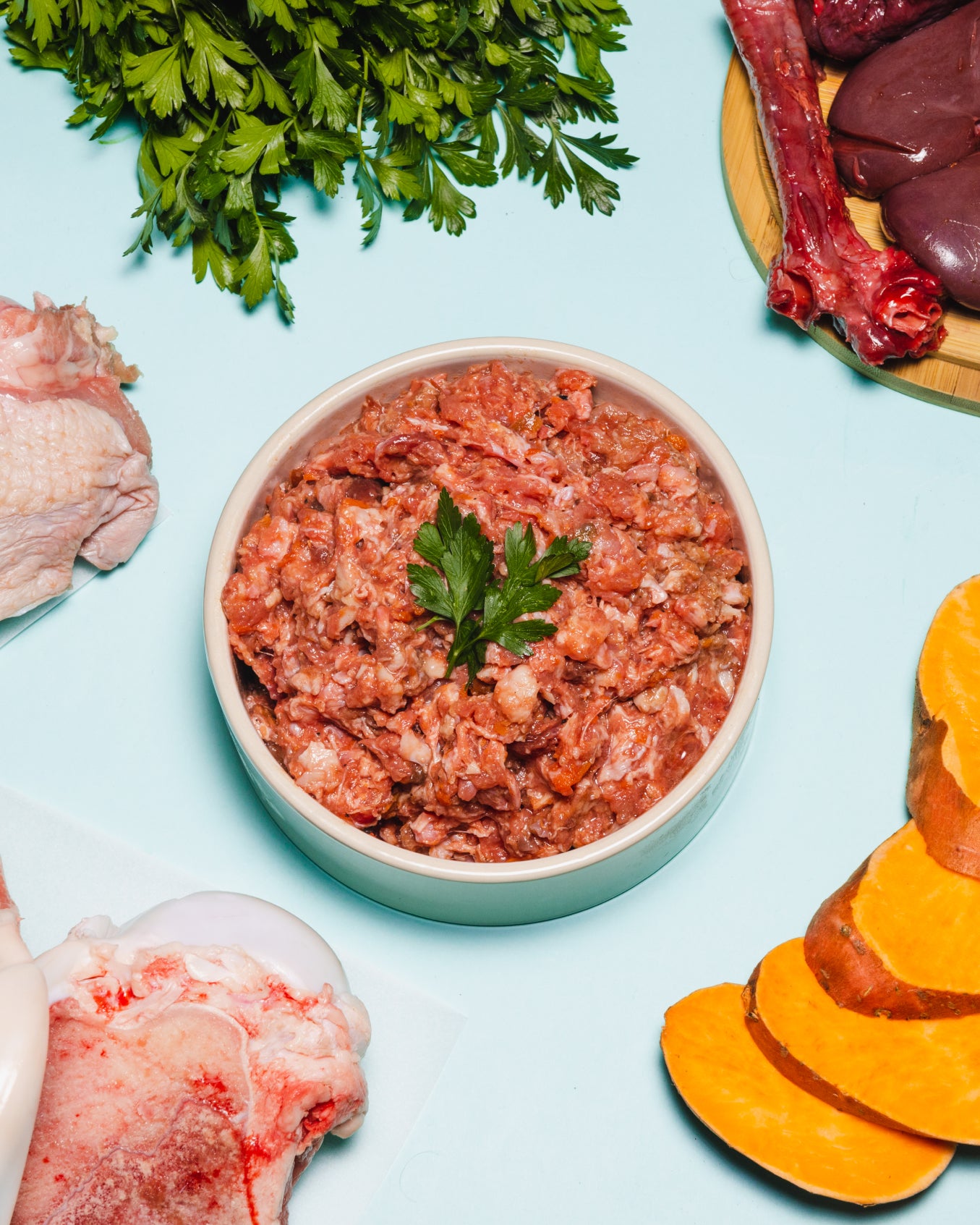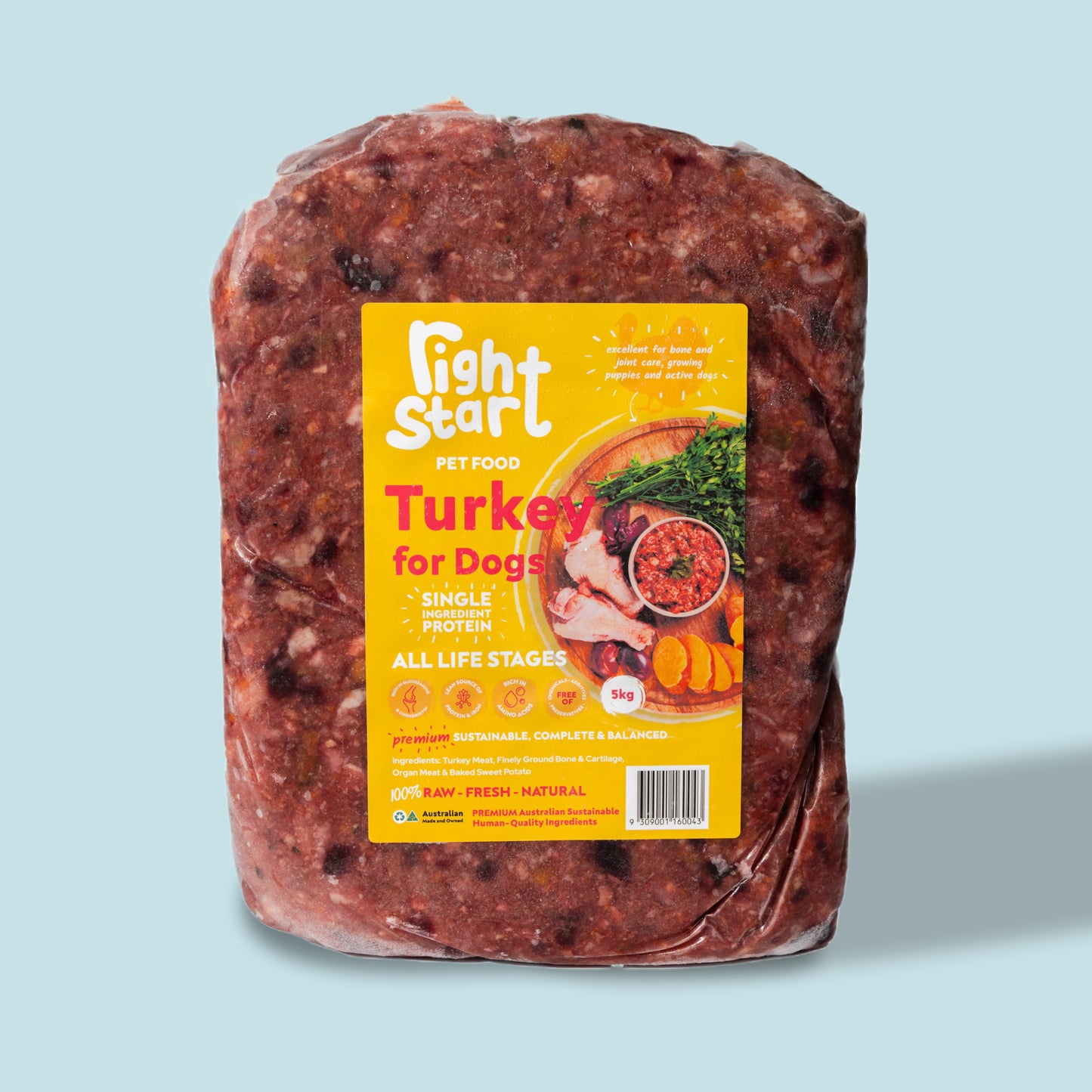 Made with 50% whole meat, 20% organ meat, 20% refined bone + cartilage, 10% fruit + veg

100% natural fresh meats with no preservatives, no additives. Pure whole-food ingredients packed with nutritional benefits, delivering a balanced diet for your pets essential health.

Australian sourced ingredients made in Australia with a proven Guaranteed Analysis Quality human grade ingredients.

All of our signature mixes are 100% natural premium raw whole food meals sourced from high- quality ingredients, prioritising organic, free-range, pasture raised, and wild-caught, ethically farmed options whenever possible.

We have meticulously created this entire diet, conducting years of research, study, and trials to develop Australia's first all-natural, protein-rich, and nutritionally sustainable complete meal.

The Right Start Pet Food is the only pet food in Australia with a Certificate of typical nutritional analysis report, featuring Omega-3, Omega-6, and Omega-9 fatty acids, along with all the essential macro and micro minerals.
Frequently Asked Questions
Puppies and dogs of all ages love turkey! It is a great alternative for pets with food intolerances and allergies to poultry like chicken.
Turkey necks sure are; they are soft, fully digestible, and entirely edible bone. Turkey necks are like giant lolly pops for your pets. Larger breeds love the whole bones. Mini breeds love them cut up into bite-size pieces.
Absolutely, they are the greatest oral care treat you can offer to remove stubborn plaque buildup and aid in fresh breath with healthy gums.
Never cook bones; always offer raw turkey neck bones only.
Raw turkey offers many nutritional benefits, and it's hypoallergenic too, great for sensitive skin and tummies, allergies, and the fussiest of eaters love Right Start Turkey.
Brain, heart function and support are great for allergy sufferers and sensitive skin and tummies. Rich in protein, calcium, phosphorous, minerals, superfood containing glucosamine and chondroitin for a bone and musculoskeletal system supporting movement, cell development and protection of organs.
Natural, wild, organic and grass-fed organs are best for your pets. We suggest feeding various organs, from liver, kidney, trachea, lungs and heart.